When in Doubt…Make a Casserole! Our Owners' Healthy Eating & Physical Health Tip of the Month
By Jessica Wrabel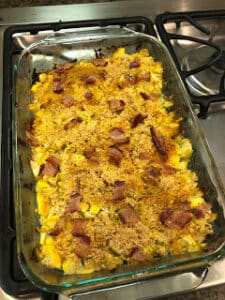 When in doubt – make a casserole.
I ordered some produce recently and it arrived with too many summer squash to know what to do with – I had to make a big casserole. All Keto and Whole 30 friendly. Who doesn't like butter and bacon? It could be good for Thanksgiving also!!
(This or any casserole can be made with dairy alternatives, such as almond milk or canned coconut milk.)
http://mycookingisamazing.blogspot.com/2020/09/squash-caserole.html
This summer squash casserole can be served as a side for breakfast, lunch, or dinner; or as a hearty snack.
Do you have 15 minutes? Well, that's all you need for this fun workout video. You will work up a sweat and benefit from joining the workout with these two…
We tend to think that we need to devote a bunch of time and effort to starting to workout again. Why though? Just start simple and smart. Every little bit counts. Keep on moving!
Latest posts by Donna Wrabel, LMSW
(see all)