What Are Popular Activities Aging Adults Love?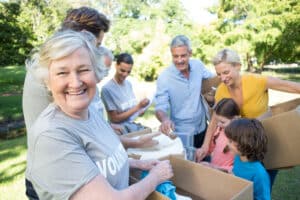 Staying active after retirement is important. Your parents' new lifestyle may have them changing how late they sleep in or what they do, but they should stay active. If they're spending hours upon hours sitting behind the TV or computer, it's time to find new activities for them to try.
What are some of the most popular activities after retirement? Some of them may surprise you, but they're bound to be appealing to your mom or dad.
Join a Writing Challenge
A site called NaNoWriMo holds a monthly competition for people to sit down and write a 50,000-word book in just 30 days. That book doesn't have to ever make its way to a publisher. It's more about proving to yourself that you can do it. It's free to join and compete.
Volunteering
Spending time volunteering can be a rewarding experience for all ages, including seniors. There are many opportunities to volunteer, including organizing supplies at a food bank, reading to children at a hospital, being a greeter at a local museum, organizing a yard sale for charity, leading a Sunday school group at church, and more. Many seniors feel as though they lack purpose after retirement and their children become adults. Volunteering can be a way to give back, as well as find a new purpose and something to look forward to.
Join a Walking Group
Walking groups encourage members to get out and walk. They plan group walks together for the social aspect but also safety. Your mom and dad could join a walking group and get out of the house. While they're getting exercise, they're also socializing.
Look for walking groups at senior centers, community centers, and on community forums. If your parents can't find one, they could start their own.
Explore Online Classes
It's easy to find online classes today. Some older adults are diving into that popular market to teach a class or take a class. Your mom or dad could share their skills on platforms like SkillShare or Udemy. If they want to expand their knowledge, dozens of colleges offer free online courses.
They could also go to companies like Google to take courses and gain certification in specific online marketing areas. With these skills, they could find work online to supplement their retirement income.
Caregivers help your parents stay active. This is one of the important steps in remaining independent at home. With caregivers helping out as needed, your parents don't have to move to an unfamiliar community. Call an agency to discuss pricing and services offered by caregivers.
If you are considering caregivers in Cinco Ranch, TX, for an aging loved one, please call the caring staff at At Your Side Home Care. We will answer all of your senior care questions. Call today: (832) 271-1600.
Latest posts by Donna Wrabel, LMSW
(see all)