Uplifting Movies to Watch When Your Dad Has a Cold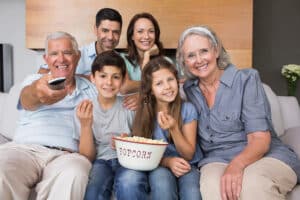 When your dad is sick, it can make being a family caregiver a bit more challenging. Drop your day's plans and sit down and watch some uplifting movies with him. In between these movies, you can give him the warm beverages and bowls of soup that he needs to help his body heal.
Big Fish
Edward Bloom (Albert Finney and Ewan McGregor) is a retired traveling salesman whose health is ailing. His estranged son (Billy Crudup) decides to make the trip across the country to visit his dad one last time. Along the way, he meets some of the people his dad met during his work and realizes the stories his dad told may not have been as fake as he grew up believing.
The Gods Must Be Crazy
This South African comedy has you laughing all the way through. Xi and his tribe live happily in the desert far away from the rest of the world. When someone throws a glass Coke bottle from a plane, it falls into the desert and manages not to break when it lands.
Xi's tribe find the bottle and believe it's a gift from their gods, only it starts to cause problems within the tribe, so Xi is chosen to walk to the edge of the world and get rid of the cursed object.
Mrs. Doubtfire
This comical story of a man who wants to win back his family's affection by posing as a British nanny was Robin Williams in some of his most memorable work. It's full of tender moments and laughter.
The Straight Story
Richard Farnsworth, Harry Dean Stanton, and Sissy Spacek star in this biographical tale of a farmer who learns his brother has had a stroke. The two are estranged, but Alvin (Farnsworth) wants to make sure he makes amends with his brother.
Alvin's a WWII veteran with poor eyesight and mobility issues that led to him giving up his license, but he's determined to go from Iowa to Wisconsin no matter what. That means he's going to make this trek by a lawn tractor.
Consider Elder Care When Your Dad's Sick
When your dad is sick, he needs someone popping in to make sure he's staying hydrated and eating well. He doesn't want to go days without a proper meal if he lacks the energy to get things on his own. If you're working, how can you balance your dad's well-being and your need for income?
Elder care is one way to manage both. While you're at work, a caregiver stops in to help your dad out. When you're available, you take over. A quick conversation with an elder care agency is all you need to get him set up with the help he needs. When he's well again, it's your family's choice if you want to keep the elder care services or stop them.
If you are considering elder care in The Heights, TX, for an aging loved one, please call the caring staff at At Your Side Home Care. We will answer all of your senior care questions. Call today: (832) 271-1600.
Latest posts by Donna Wrabel, LMSW
(see all)