Tips to Boost Your Elderly Loved One's Spirit During Their Retirement Years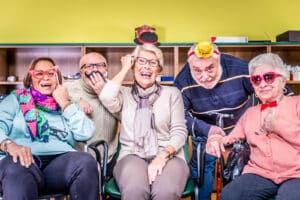 After your elderly loved one retires, they are going to need some emotional support. Many people who retire often find themselves depressed, lonely, and without a purpose. However, there are some ways that you and home care providers can boost your elderly loved one's spirit during their retirement years.
Fun, Healthy Activities
One of the ways to boost your elderly loved one's spirit during their retirement years is through fun, healthy activities. Some of the activities that your loved one does will need to calm their mind. For instance, if they recently lost a loved one, they may need a relaxing, calming activity – one that soothes their mind, soul, and body. Some of these activities might include yoga, swimming, walking, or meditation.
Expressing Oneself
Another way for your elderly loved one to feel uplifted during their retirement years is by expressing themselves. They can do this in many ways. Taking up journaling, art classes, music, or dancing are all great ideas. If your elderly loved one enjoys teaching others things, they may be able to offer their own class at a local community center or library.
Leaving Behind a Great Legacy
Your elderly loved one may be worried that they won't leave behind a great legacy. This is something that many elderly adults think about. However, your elderly loved one can feel better if they start a new tradition that will continue after they are gone. They can also engage themselves in an activity that will leave behind their legacy. This could include scrapbooking, writing a story, or creating a family history book. They could also tell stories on videos to share with future generations.
Gardening
During your elderly loved one's retirement years, they can also take up gardening. Gardening has shown to help boost someone's spirit, improve their mental health, reduce anxiety, and offer many other benefits, as well. If your elderly loved one needs something to occupy their time and to help them feel better after they retire, gardening can be just what they need.
Volunteering
Your elderly loved one may also feel better in retirement if they volunteer somewhere. Most towns have at least one place that people can volunteer. It could be a library, a community center, the hospital, a daycare center, a school, or somewhere else. Volunteering can not only lift your loved one's spirit but help them to feel better overall, as well.
These are some of the tips to help boost your elderly loved one's spirit during their retirement years. If you and their home care providers help them to do these things, they can feel much happier and more uplifted.
Sources
https://www.urmc.rochester.edu/encyclopedia/content.aspx?contenttypeid=1&contentid=1546
https://www.ncbi.nlm.nih.gov/pmc/articles/PMC5508938/
If you are considering home care in Galleria, TX, for an aging loved one, please call the caring staff at At Your Side Home Care. We will answer all of your senior care questions. Call today: (832) 271-1600.
Latest posts by Donna Wrabel, LMSW
(see all)