Tips For Dealing With a Stubborn Parent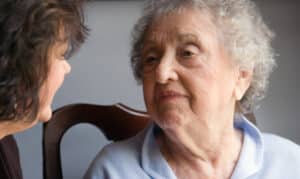 Any adult child of a senior requiring daily elder care knows how frustrating day to day tasks can be when their parent is strong-willed and stubborn and refuses to do the things that they need to remain safe and healthy at home.
Here are a few tips for handling a stubborn elder in your life which will hopefully lessen the resistance and make both of your lives a little easier.
Give them a choice.
Stubborn seniors may feel like they lack control over their lives, when others are forced to do for them the simple tasks they could once do alone. This can be frustrating for them and can contribute to difficult behavior as they attempt to assert control. Sometimes just giving them a choice can make a difference; for example asking them whether they want to bathe now, or in 10 minutes, or by giving them a choice between two food items for breakfast. You know they need to do it, but letting them be a part of the decision to do something puts it in their hands and allows them to feel like they have some control over their life in elder care.
Don't take it personal.
Many adults who have parents who are receiving elder care at home are trying to juggle the needs of their parent at the same time as the daily needs of their own children and families. This can add stress on anyone, but often when dealing with a stubborn parent it magnifies the issues and can cause frustration to boil over. Sometimes when a senior has dementia or loss of cognitive abilities, we forget that they don't mean to hurt us or make life harder on us, and that in many cases they are unable to control their unruly and sometimes combative behavior. Try to remember that it's not personal and that they probably aren't intentionally making life hard for you.
Know you're not alone.
Online forums, self-help and elder care support books and podcasts are all available if you need support. Talk to your senior's caregivers who are compassionate professionals in this field and have great ideas and tips for easing this tough situation, or feel out a counselor who may be able to offer help.
Take a break.
When times get tough, take a break if you can. Let your loved one's caregivers know how you are feeling and step away from the situation for a bit if possible. Make sure to practice good self-care, for example making sure that you are getting enough sleep and good nutrition so you can be your best self.
Call in reinforcements.
If you are worried about health or safety concerns, which is often the case with elder care, you may need to call in help. It is important to research your options ahead of time so if a serious situation arises where you need back up, you'll be prepared.
Social workers, home health caregivers, and if needed, local law enforcement (EMT's) can all be utilized when other options fail. Talk with your parent's health care practitioner or insurance provider to find out what options you have in your area.
If you are considering elderly care in Galleria, TX, for an aging loved one, please call the caring staff at At Your Side Home Care. We will answer all of your senior care questions. Call today: (832) 271-1600.
Latest posts by Donna Wrabel, LMSW
(see all)