The Best Hygiene Practices to Follow During the Pandemic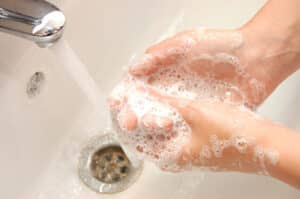 The pandemic is ongoing. At this point, some people are tired of staying home and showing their frustration. You may find your parents are wanting to go to stores more often or visit friends as restrictions are eased in places.
It's still best for your parents to stay home and avoid unnecessary trips. If they do venture out to stores, they still need to follow the best hygiene practices.
Use Hand Sanitizer Until There's a Sink Available
Washing hands for a minimum of 20 seconds is best. Soap and water are ideal when it comes to killing the virus. If they cannot get to a sink, carry hand sanitizer and use it often.
When should you rely on hand sanitizer? When your parents are out shopping, use hand sanitizer after touching the PIN pad at the register. Use it after cleaning the cart. Apply hand sanitizer after putting groceries in the car. If they handle cash, they need to use hand sanitizer. If they have to open a door, they need to use hand sanitizer after turning the knob.
Avoid Touching the Face
As allergy season arrives, the nose and skin can get pretty itchy. Make sure your parents know that it's best not to touch their face.
It's hard to stop an itch without scratching it, but they need to avoid touching their face. If they have to, they should wash their hands first or apply hand sanitizer and wash hands or apply more sanitizer after itching their skin. A face mask may keep them from touching their mouths or noses.
Wash Face Masks After Each Use
If your parents use a face mask when they go out, it needs to be washed after each use. Soap, hot water, and a touch of bleach help kill COVID-19.
The easiest way to wash face masks is by tossing them into a laundry load and drying them fully. They can do that in the dryer or hanging them in the sun.
Has COVID-19 kept you from seeing your parents? They don't have to be alone. If they're tempted to go out because they're not seeing you enough, home care services may be a good solution. By hiring caregivers to provide companionship services, your parents have someone to talk to each week.
You don't have to worry about putting your parents at risk if you can't go see them. Call a home care agency to make arrangements.
If you are considering home care in Spring Branch, TX, for an aging loved one, please call the caring staff at At Your Side Home Care. We will answer all of your senior care questions. Call today: (832) 271-1600.
Latest posts by Donna Wrabel, LMSW
(see all)