Senior Care The Heights TX: Activities for Seniors With Dementia
Activities for Seniors With Dementia
By The CareGiver Partnership
One of the biggest challenges for caregivers who are providing senior care for a loved one with dementia is coming up with activities for the person in their care.
Research has shown that providing activities can help a senior with dementia keep and use what cognitive function they still have and slow down the progression of the disease.
The good news is that there are tips that can help you come up with meaningful activities. Here are some senior care activities for seniors with dementia:
Consider the interest of the person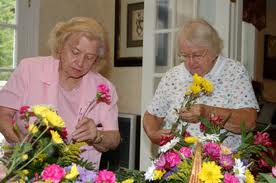 It can be difficult to just come up with activities for the loved one in your care. However, if you start by thinking about what activities the senior in your care has enjoyed that may give you a place to start. Keep in mind that you will need to consider how severe the dementia is before you settle on an activity but knowing what they have enjoyed in the past can be a good place to start. For example-If someone loved to garden, cook, sew, or do needlework you can offer an activity that is based on not only what they loved but their current cognitive skill. While you may have to simplify what you do (for example planting seeds instead of pruning), it can still put them in touch with activities that they have enjoyed in the past.
Set up routines
One of the most devastating effects of dementia is the fact that many people who get it begin to feel like they have lost their purpose. You can help the elderly loved one in your care by making them feel more useful and needed. You can do this by setting up activities that you and your loved one can do together. Keep in mind that these tasks do not have to be elaborate or outside of the norm. Simply by taking out the garbage, washing dishes, or folding the laundry you can help the senior in your care feel that they have purpose. Keep in mind that with any type of task that you offer you will need to make sure that it matches the senior's present cognitive abilities.
Read on for more senior care activities and help keep your loved one healthy, happy and involved.
continue here
If you are looking into senior care for your loved one with dementia, contact At Your Side Home Care. We are a home care agency providing senior care in The Heights TX and the surrounding communities. Call 832-271-1600.
For most of us, the word "home" evokes warm feelings of comfort, security and well-being. For older adults, home also means holding tight to cherished memories and maintaining self-esteem and independence. When illness, injury or age make life a little more challenging, remaining at home in a comfortable, familiar environment encourages recovery and enhances the quality of life. Home can be defined as a private residence, an independent or assisted living facility or even a short term stay in the hospital, we recognize the additional benefits provided by a personal, professional assistant.

Our Certified Nurse Aides, 24-Hour Live-in Assistants and Home Health Aides are available 24 hours a day, 365 days a year. We also provide the security and confidence of 24-hour Telephone Assistance, so fast, reliable help is always available when it's needed. To learn more about our homecare services see our homecare services page.

Different people need different levels of homecare. To meet the requirements of our clients, At Your Side Homecare maintains consistent staffing levels of caring professionals. Homecare service is available for as little as a few hours a week, or as many as 24 hours a day, seven days a week
Latest posts by Donna Wrabel, LMSW (see all)