Five Tools to Make Life Easier as a Long-distance Caregiver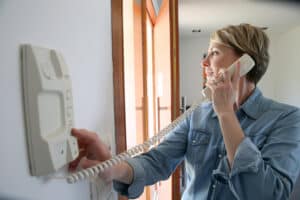 Being a long-distance caregiver is incredibly challenging. And it can frustrate both you and your senior. Keeping some of these solutions in your pocket might be helpful.
Your Senior's Medical Team
Your senior's entire medical team can be a huge help for you as her long-distance caregiver. Her primary doctor, specialists, and support staff can all help you to get a full picture of her current health and prognosis. All of that information is vital for you to be able to make the right decisions for her.
Reminders and Apps
When you're right there with your senior, there are lots of situational cues that can help you to keep track of what she needs and when. From afar, it's not as easy for either of you to stay on top of those things. With reminders, apps, and calendars, though, you can stay a little more on top of what needs to happen when, especially when those things are time dependent.
One Spot for All Your Caregiving Information
Family caregivers need to be as organized as possible. This is even more vital for you if you're helping her from farther away. Having one spot, like a caregiving binder or accordion file, for everything can ensure that you have everything in one place. It also helps significantly if you need to take that information with you. Something else to consider might be keeping digital copies of paperwork and information so you can access it on the go.
Personal Alarms
Personal alarm systems have come a long way from their beginnings as a button to push in an emergency. Some come equipped now with fall-sensing technology and they can tie in with your senior's home alarm system, if she has one. Before you sign your senior up for these services, though, talk to her about them. She might feel more infringed upon with these types of devices than you expect.
Senior Care Providers
There's nothing like a human touch to solving a problem, especially if you can't be that human for your senior. Senior care providers are able to stop in, to spend time with your elderly family member, and let you know if they're noticing any significant issues. This can be a vital part of your toolkit as a long-distance caregiver.
Being a family caregiver is difficult enough, but if you're doing so from far away it can feel as if you have one hand tied behind your back. It's important for you to have tools in place that help both you and your senior to feel secure about what's happening.
If you or an aging loved one are considering senior care in Galleria, TX, please call the caring staff at At Your Side Home Care. We will answer all of your senior care questions. Call today: (832) 271-1600.
Latest posts by Donna Wrabel, LMSW (see all)