Professional Caregivers are Special People!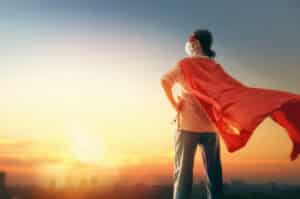 When I was a young girl, I thought my dad was Superman. He was a tall, dark, handsome Italian man who fixed cars for a living. He could fix anything and make it work again. And he was without a doubt the protector of our family. I remember one time a neighbor called me a slang word for Italian. When I told my Dad, he went over to the neighbor's house, banged on the door, and said, "Let me see you come out here and call me that name." And yet somehow, my Dad became the best of friends with that neighbor. When the guy became ill, Dad cooked him a tray of sausage and peppers. It seemed like my Dad could turn any situation around and make it better. It got me thinking, what is a superhero? What is so special about them and what they do?
Superheroes serve and protect others, especially those who are most vulnerable like the elderly. Superheroes make a real difference in the lives of others. They are trustworthy, dependable, they make things better wherever they go, they make people feel special. Superheroes are compassionate, kind, and caring. They seem to understand what someone is going through and are always there to help. They keep people safe. They offer those they serve hope in the most difficult of circumstances.
Each of you have these exact traits of a superhero. You protect and serve those who are among the most vulnerable. You use your extraordinary skills to help others. You are dependable. Compassion comes easy for you as you seem to understand what the person in your care needs, what their family member is going through, how they might feel, how to soothe them and make things better. You deeply believe in your mission to make a positive difference in the lives of others. Being a caregiver is not always an easy job, especially now. And yet, as a professional caregiver, you are steady, strong, attentive, loving and kind even in stressful and challenging times.
We want you to honor your superhero status and give you a super thank you. Thank you for providing the opportunity for many elderly people to live out their last years, months, their final days, hours, and minutes comforted and not alone. We are so grateful that together, we make a real difference in the lives of those clients and families that we have the honor, the privilege, and the blessing to serve. Professional caregivers are special people!
Latest posts by Donna Wrabel, LMSW
(see all)