Meet Our Amazing Caregivers – Alphonsus N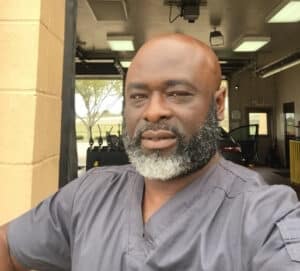 1.What is your favorite memory from work?
Favorite memory from work was when one of my patients shared an interesting story he must have heard from years back about the Aborigines from Australia. It turned out to be a favorite documentary he liked watching on TV as I later learnt from his daughter. Each time I wanted to get him to do his daily routines, I would talk about it and promise to reward him with this documentary. He would gladly join in. We both got along with this pretty well.
2. What do you like most about your job?
Participating in what my clients like doing and paying attention to whatever stories they would tell me.
3. What do you like to do outside of work?
I like watching soccer games and listening to Caribbean music outside work.
4. What are two words that describe you?
Caring and Patient
5. What caused you to get into caregiving initially?
Went into caregiving because of compassion for the elderly and helpless. The experience I had with my grandma who passed away molded me into the caregiver I am today. I spent some time looking after her during her illness and was there to help before she died.
Latest posts by Donna Wrabel, LMSW
(see all)