Is There Really Anything You Can Do about Wandering?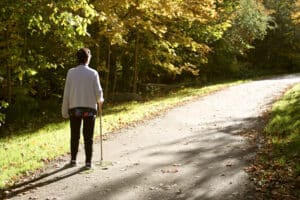 Wandering is a specific habit that can arise for people with dementia and related illnesses. The changes that occur in your senior's brain with dementia can create a situation that manifests as your senior moving around in seemingly random ways.
Understand the Urge to Wander
It's important to understand why your senior might start to have an urge to wander. With dementia, your senior's brain works differently than it used to work. That can mean that she doesn't remember specific things, like where the bathroom is, but her body does still tell her she needs to go. She may also get the urge to wander for other reasons, like she has extra energy that she can't expend any other way. Wandering is complex and you may need help from your senior's doctor to fully understand her urges.
Routines and Schedules Can Help
One of the best ways to try to meet your senior's needs consistently and when they most matter is to set up routines and schedules. Solid routines and schedules help to ensure that you don't forget important details and they help to get your senior accustomed to doing certain things at certain times. Meals are an excellent example of things you might be used to scheduling. But adding things like a morning bathroom break right after breakfast can help to ensure that your elderly family member doesn't start wandering because she needs the bathroom.
Distraction Can Also Help
Something else to consider is that your elderly family member could also become bored, upset, or overly stimulated in another way and develop an urge to wander. Distracting activities and events can help when this is the cause of your senior's wandering. This can take a bit of experimentation to find the right combination to appease your elderly family member's urge to move around. Even a walk can be effective, though, so you don't have to think too far outside the box.
Look into Various Changes You Can Make
There are so many changes you can make to help with wandering related to dementia. There are safety tools you can include, like changing the location of the locks on exterior doors. There may also be other solutions you put in place, like hiring senior care providers to help you to meet your senior's needs all throughout the day.
Dealing with your senior's tendency to wander can be intimidating and frustrating at first. But if you remember to stay calm and to try to address basic needs first, you can eventually get a handle on what's behind your elderly family member's wandering.
If you are considering senior care in Cinco Ranch, TX, for an aging loved one, please call the caring staff at At Your Side Home Care. We will answer all of your senior care questions. Call today: (832) 271-1600.
Latest posts by Donna Wrabel, LMSW
(see all)