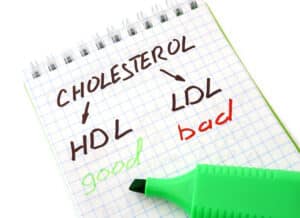 Cholesterol is a substance that naturally occurs in the body and in some of the foods that we eat. It's something that the doctor checks your aging relative for regularly. So, does that mean all kinds of cholesterol are bad? Actually, no. There are different kinds of cholesterol. Understanding them could help you to better care for an older adult.
Kinds of Cholesterol
There are three different kinds of cholesterol. They are:
Low-Density Lipoprotein (LDL): Most of the cholesterol in a person's body is LDL cholesterol. This is the type of cholesterol that is referred to as "bad." When your older family member has abnormally high levels of LDL cholesterol, it puts them at risk for serious illnesses like stroke and heart disease.
High-Density Lipoprotein (HDL): HDL is the "good" kind of cholesterol. As it travels through the body, it gathers bad cholesterol and delivers it to the liver. There, the liver processes the bad cholesterol and removes it from the body. Having more HDL cholesterol can lower your aging relative's risk for stroke and heart disease.
Dietary Cholesterol: Dietary cholesterol is the kind people consume in food. Foods that contain cholesterol are also usually a source of saturated fat. By seeking to lower your aging relative's intake of saturated fat, you can also help them to reduce the amount of dietary cholesterol they eat.
What Cholesterol Test Numbers Mean
According to the American Heart Association, cholesterol should be tested once every four to six years. The test will report cholesterol levels in milligrams (mg) per deciliter (dl). There are three cholesterol numbers you should be aware of:
LDL: Ideally, LDL cholesterol should be 100 mg/dl or lower. It is considered high at 160 mg/dl and very high at 190 mg/dl.
HDL: If HDL cholesterol is lower than 40 mg/dl, the older adult is at greater risk for heart disease. At 60 mg/dl or higher it is considered a protective factor against heart disease.
Total Cholesterol: Seniors should aim to keep their total cholesterol lower than 200 mg/dl. When it reaches 240 mg/dl or higher, the older adult has high cholesterol and may require medical treatment.
If your aging relative hasn't had a cholesterol test lately, an elder care provider can help them to make an appointment and drive them to the doctor's office. If their cholesterol is high, elder care can help them to take control of cholesterol management by preparing healthy meals and encouraging lifestyle changes that can lower cholesterol levels. The elder care provider can also remind your older family member when it is time to take cholesterol medications so they don't accidentally miss doses.
Sources
https://www.heart.org/en/news/2020/09/16/making-sense-of-cholesterol-the-good-the-bad-and-the-dietary
https://medlineplus.gov/lab-tests/cholesterol-levels/#:~:text=There%20are%20two%20main%20types,certain%20fats%20in%20your%20blood.
https://www.cdc.gov/cholesterol/ldl_hdl.htm
If you are considering caregivers in Houston, TX, for an aging loved one, please call the caring staff at At Your Side Home Care. We will answer all of your senior care questions. Call today: (832) 271-1600.
Latest posts by Donna Wrabel, LMSW
(see all)