Is a Pet a Good Idea for Your Elderly Loved One?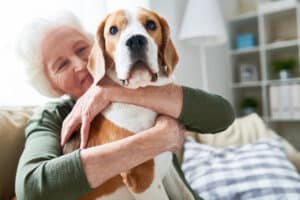 Do you want to find a way to keep your elderly loved one active? Are you trying to help your loved one feel less alone? These are just a couple of the benefits that your elderly loved one will get if they have a pet. A dog or cat can make for the best companion. Keep reading here to find out more about the many benefits of pets for elderly adults.
Feeling Better
One of the best benefits that occur when an elderly adult has a pet is that it can help them to feel better. Is your elderly loved one suffering from chronic pain due to migraines or arthritis? If so, a pet could help them to feel better. In addition, pets have also been known to help elderly adults feel less depressed or anxious, as well. If your elderly loved one is dealing with these mental health issues, getting them a pet could be a good route to take.
Get Moving
Do you want your elderly loved one to be more active? Do they need to get up and moving around more often? If so, you can get them a dog. Having to play with a dog can make your loved one more active. In addition, they will need to take the dog on walks. This will get your loved one more steps throughout the day.
Socialization
Having a pet can actually make your elderly loved one more social, too. Most elderly adults loved to boast to friends, neighbors, family members, and even to their elderly care providers about their pets. They talk about how cute their cat or dog is. They may talk about their pet's personality and interesting quirks, as well.
Better Heart Health
Did you know that having a pet can even help with heart health? Owning a pet can help to lower triglyceride levels, blood pressure, and cholesterol levels. Getting your loved one a pet can also help them to have better heart rates, too. If your loved one has a family history of heart problems or they have heart issues, you may want to get them a pet. Dogs and cats are often the best pets to get for someone who is trying to improve their heart health.
These are some of the reasons why getting a pet for your elderly loved one might be a good idea. There are many other reasons out there, as well. It is also important to note that if your elderly loved one is allergic to certain animals, there are some non-allergenic dog breeds out there that would be a great fit for your loved one.
Sources
https://www.animalhealthfoundation.net/blog/2012/10/8-health-benefits-of-having-a-pet/?gclid=Cj0KCQiA7aPyBRChARIsAJfWCgKMQaT9eUGqF7nZ7Gw-JwTg9zYL0ah_mQcKU19m2e8MV-S_jnfzWWcaAiUeEALw_wcB
https://www.cdc.gov/healthypets/health-benefits/index.html
If you are considering elderly care in Cinco Ranch, TX, for an aging loved one, please call the caring staff at At Your Side Home Care. We will answer all of your senior care questions. Call today: (832) 271-1600.
Latest posts by Donna Wrabel, LMSW
(see all)