Indoor Activities That Engage Your Parents on Hot or Rainy Days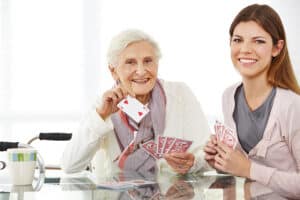 Hot temperatures are gripping some areas in the U.S. Others are seeing torrential downpours that make it hard to go outside. When the weather has your parent stuck inside, how can you keep them entertained?
Your parent may not love all indoor activities. If you have an idea where your parents' interests lie, you'll have an easier time discovering rainy day activities that engage them and keep them happy.
Board Games
Board games are really hot right now. It's not the classic games you remember from childhood that are being played, it's newer games that can be very complex to play but so much fun when you get the rules down.
Your parents probably have older games in their closet. Monopoly, Parcheesi, Scrabble, and Trivial Pursuit are a few of the games that most families owned. For newer games, consider Apples to Apples, Ticket to Ride, and the word game Codenames are all popular options.
Painting
Painting is a peaceful way to pass the time. Look for sales on canvas paper and pick up a set of watercolors or acrylics. Head online or to YouTube for instructional videos that walk you and your parents through the steps to create the chosen painting.
In just an hour or two, you could have created a painting of an ocean landscape or a vase of flowers. Invite other family members and turn the painting session into a makeshift paint and sip gathering.
Movies
Have you considered bringing generations together by watching movies for the afternoon? Pick a classic movie your parents know well that has been remade. Your teens are likely to know the remake, while your parents will have fond memories of the original. Watch them back-to-back.
If you need help getting started, you could watch the classic Disney cartoon Dumbo and then watch the live-action version of the movie from 2019. Disney has also done live-action remakes of Cinderella, Beauty and the Beast, 101 Dalmatians, and Aladdin.
A Star is Born has been remade several times. Start with the 1937 original starring Janet Gaynor and Frederic March. From there, you have Judy Garland's 1954 version that also starred James Mason. It was remade again in 1977 with Barbra Streisand and Kris Kristofferson. Finally, the latest version stars Lady Gaga and Bradley Cooper.
Baking
Make some muffins, cookies, or bread. If it's not too warm, you can turn on the oven, mix some batter or dough, and make some treats that you can enjoy together. Freeze leftovers for quick desserts or breakfasts.
You may have noticed that your mom and dad don't enjoy cooking like they used to. This happens in some households. You can ensure they're eating properly by hiring elder care services. Caregivers can come to their home as often as you request. Your parents enjoy healthy meals and companionship when you hire elder care services.
If you are considering elder care in Memorial, TX, for an aging loved one, please call the caring staff at At Your Side Home Care. We will answer all of your senior care questions. Call today: (832) 271-1600.
Latest posts by Donna Wrabel, LMSW
(see all)