It's Never Too Late To Get Help: In Home Care in Houston TX For Aging Veterans
It's Never Too Late To Get Help: In Home Care in Houston TX For Aging Veterans
"I hate to admit it, but I didn't know how bad things had gotten with Mother. We talked on the phone every morning, and she'd tell me everything was fine. It wasn't until we popped in for a surprise visit that I learned everything wasn't fine at all." Sara-anne's mother, Rosalinde, the widow of a military veteran, had started suffering from Alzheimer's Disease. This cognitive disorder meant she had a tough time remembering to do basic housekeeping chores, like taking out the trash or putting dishes in the dishwasher. "You have to understand that Mom always kept a spotless house. To see this mess – it wasn't like her at all!"
Rosalinde was experiencing confusing thoughts, which left her distressed and upset. "She wouldn't go out of the house. She thought the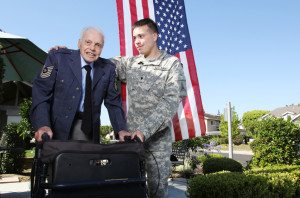 police were after her. Crazy things." Sara-anne got her mother evaluated by a doctor, who recommended in-home care.
In-Home Care for Veterans and Their Spouses
In-home care for the spouse of veterans is available as a paid benefit to individuals who qualify for the VA Aid and Attendance Pension Benefit. This benefit pays for in-home care for those individuals who can't perform the basic everyday tasks of living safely for themselves. Rosalinde could not consistently or safely cook her meals or clean up after herself any longer. Because her husband was an active-duty serviceman during the Korean War and he was honorably discharged, Rosalinde's care was covered. If you're not sure if your Mother or Grandmother's in-home care would be covered, contact us. We're here to help you discover the best way to get the care your loved one needs and deserves.
It's never too late to call for in-home help for a veteran or the spouse of a veteran. Many families can be surprised by older relatives who assure them that everything is fine, fine, fine until the truth comes out and it is discovered that everything is not fine. It is what you do at that point that matters the most. Taking action to correct the situation and get in-home care for your parents or grandparents is what you need to do. Letting the situation continue without taking any action is the real bad behavior! So once you know, you can act and make sure that your loved ones get the nurturing care they need.
For more information and a list of home care agencies that serve aging veterans, visit www.HelpforAgingVeterans.com.
Contact At Your Side Home Care for more information about in-home care and how our caregivers can help. Call 832-271-1600 or fill out our web form.
Latest posts by Donna Wrabel, LMSW
(see all)