How to Hire Urgently Needed In-Home Care in Houston
How to Hire Urgently Needed In-Home Care in Houston
6 steps for getting appropriate, affordable in-home care — fast
By Kate Rauch, Caring.com senior editor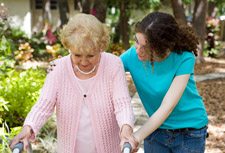 If you need help at home right now, the ideal solution may be to hire an in-home caregiver. These steps can help with this sometimes-daunting task.
1. Begin with a doctor's assessment for in-home care.
To help you understand what kind of caregiver to hire (such as someone with a nursing background versus more of a personal assistant), have the person in your care checked by his doctor. A doctor can also help determine whether in-home care is the best route or whether he really needs to move temporarily to a skilled nursing facility.
Helpful hint: If the person is acutely ill or recovering from surgery or another medical procedure, be sure to ask his doctor whether he's eligible for in-home care as part of his treatment, which may be covered by his insurance plan.
2. Determine your in-home care budget.
Before you can hire someone, you'll need to know how much money is available to spend for a caregiver. This will help you make important decisions about the salary and number of hours you can afford. Talk with the individuals and other family members to nail down roughly how much money you can pool to pay for in-home care to get started. Then you can start looking at other options for ongoing care.
continue reading here
At Your Side caregivers are available to talk with you and your family about all of your in-home care needs. At Your Side is a home care agency providing quality and affordable in-home care in Houston and the surrounding communities. Call 832-271-1600 for more information.
Latest posts by Donna Wrabel, LMSW
(see all)