How to Help Your Elderly Loved One Keep a Positive Mood During the Coronavirus Pandemic
There are many people who are feeling depressed or getting the blues because of the coronavirus pandemic. They may be going stir-crazy or just feeling anxious about this entire situation. If you want to help your elderly loved one keep a positive mood during this pandemic, there are ways that this can happen.
Talking to a Loved One or Friend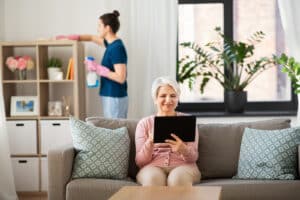 If your elderly loved one is feeling down or depressed, they can also talk to a loved one or friend. While people are supposed to be keeping their distance from one another at this time, your elderly loved one can still have a phone call or video chat with their loved ones and friends. By talking to someone they care about, your loved one can feel more uplifted and loved.
Coloring
Coloring isn't just for children. If you want to help your elderly loved one to relax and feel more positive during the coronavirus pandemic, have them color. There are even adult coloring books that you can send your elderly loved one. Coloring can help to reduce their anxiety and possibly even help them to achieve a meditative state. If your elderly loved one is feeling inspired, they can even draw their own picture and color it.
Walking
Walking is another great way to boost spirits during the coronavirus pandemic. Not only does it help to keep your elderly loved one healthy during this time, but it can also improve their mental health, as well. Research shows that walking can improve happiness, reduce boredom, and offer many other health benefits, too.
Sleeping
Does your elderly loved one need a break from the stress? Making sure that they get 7 to 9 hours of sleep every night can help a great deal. Research shows that people who are sleep-deprived have a higher chance of getting sick and feeling depressed. If your loved one has an elderly care provider taking care of them at night, have them help promote a better sleeping environment.
Yoga
Your elderly loved one can do yoga during the coronavirus pandemic to boost their mood. There are many studies that show yoga can help reduce stress, anxiety, and feelings of negativity. If your elderly loved one needs help improving their state of mind, have them practice even the most basic yoga poses.
These are some of the best ways to keep your elderly loved one in a positive mood, despite the coronavirus pandemic.
Sources
https://www.ncbi.nlm.nih.gov/pubmed/27100368
https://www.aarp.org/health/healthy-living/info-2018/boosting-your-mood-fd.html
If you are considering elderly care in West Houston, TX, for an aging loved one, please call the caring staff at At Your Side Home Care. We will answer all of your senior care questions. Call today: (832) 271-1600.
Latest posts by Donna Wrabel, LMSW
(see all)