Homecare in River Oaks TX: Keeping Seniors Heatlhy
Helping Seniors Stay Healthy At Home With Homecare in River Oaks TX
Homecare Agencies Provide Light Meal Preparation
Sometimes it is necessary to have a little help with meal preparation or light housekeeping, long before any personal homecare is actually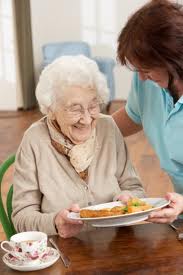 needed. That is really the best time to engage a homecare agency, when the family members see that their loved one needs more help than they will be able to provide, and before a crisis arises. The homecare agency will be willing to start slowly with certain services, and then their help can be increased as it becomes necessary.
Caregivers can help with grocery shopping and meal planning, if there is a need for it. That's why homecare providers take the time, and give additional effort in making mealtime exceptional. No matter the reason for homecare , whether disabled or elderly, a good homecare agency provides options and different levels of service so that your loved one receives the care that they need.
The benefits of our senior loved ones eating healthy include increased mental acuteness, resistance to illness and disease, higher energy levels, faster recuperation times, and better management of chronic health problems. As we age, eating well can also be the key to emotional stability and can help keep our loved ones feeling better overall.
Other services provided by homecare agencies include:
Bathing, Grooming & Hygiene
Medication Reminders & Safety Supervision
Transportation/Errands
Companionship
Chore Services & Light Housekeeping
Family Respite
At Your Side Home Care is a homecare agency providing your family with options for the care of your loved one in the home. If you would like more information, call our caregivers today at 832-271-1600.
Latest posts by Donna Wrabel, LMSW (see all)