A Proposal For Caregiver Support For Military Home Healthcare in Houston TX
Proposal Would Expand Support for Military Caregivers
Caregiver Support For Military Home Healthcare in Houston TX
By Elaine Sanchez
American Forces Press Service
WASHINGTON, Jan. 30, 2012 – First Lady Michelle Obama today announced a series of measures intended to increase the nation's support for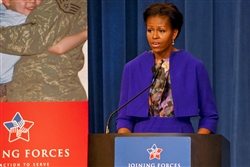 caregivers of wounded, ill and injured service members.
Joined by Labor Secretary Hilda L. Solis and senior military leaders, Obama announced the Labor Department's proposal to expand military family leave protections under the Family and Medical Leave Act.
These proposed rules will, in part, enable more military family members to take the time they need to care for their loved ones without fear of career repercussions, the first lady said.
"We want to recognize the extraordinary dedication, sacrifice and service of our nation's caregivers, not simply with words, but with deeds," Obama told the audience gathered at the Labor Department here. "These are men and women and children who will do anything for their loved ones, no matter the cost, no matter the sacrifice, no matter the consequences."
The Labor casino online Department's proposed expansions of the Family and Medical Leave Act will help more caregivers of troops and veterans provide home care to their wounded loved ones, Solis explained. FMLA, enacted in 1993, enables eligible employees of covered employers to take unpaid, job-protected leave for specified family and medical reasons.
"Many service members come home stressed, ill and injured," Solis said. "They need attention, care and support from the people that love them the most. And we've got an obligation as a nation to make that possible."
read more here
At Your Side Home Care is dedicated to providing quality and affordable home care support for your loved one. If you have questions, call us at 832-271-1600. We can help with an array of services that will help you care for yourself and your family.
For most of us, the word "home" evokes warm feelings of comfort, security and well-being. For older adults, home also means holding tight to cherished memories and maintaining self-esteem and independence. When illness, injury or age make life a little more challenging, remaining at home in a comfortable, familiar environment encourages recovery and enhances the quality of life. Home can be defined as a private residence, an independent or assisted living facility or even a short term stay in the hospital, we recognize the additional benefits provided by a personal, professional assistant.

Our Certified Nurse Aides, 24-Hour Live-in Assistants and Home Health Aides are available 24 hours a day, 365 days a year. We also provide the security and confidence of 24-hour Telephone Assistance, so fast, reliable help is always available when it's needed. To learn more about our homecare services see our homecare services page.

Different people need different levels of homecare. To meet the requirements of our clients, At Your Side Homecare maintains consistent staffing levels of caring professionals. Homecare service is available for as little as a few hours a week, or as many as 24 hours a day, seven days a week
Latest posts by Donna Wrabel, LMSW (see all)