Keeping Seniors Safe in the Heat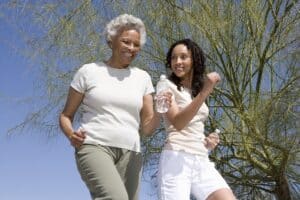 There's no doubt that the summer heat has arrived. With the temperatures soaring, your aging relative may need someone to help them stay cool. Too much heat can be dangerous, leading to heat-related illnesses.
How Heat Can Affect Seniors
Being exposed to high temperatures for too long is particularly dangerous to older adults whose bodies may not be able to adjust to heat as easily as those of younger people. Some of the heat related illnesses that seniors may experience are:
Heat Cramps: Exercising or working in the heat can cause muscles to tighten up and cramp.
Heat Syncope: Activity in hot temperatures can cause seniors to suddenly feel dizzy, which could lead to fainting.
Heat Exhaustion: Heat exhaustion is a sign that the body cannot cool itself. Skin may be cold and clammy, and the older adult may be dizzy, nauseated, and weak.
Heat Stroke: Heat stroke should be treated as an emergency. Call 911 immediately if the older adult faints, has a body temperature of 104 degrees or higher, skin that is dry and flushed, and they are not sweating even though they are hot.
Ways to Keep Seniors Cool
There are many ways seniors can stay cool when the weather is too hot, and home care can help. Some of the ways that a home care provider can help to keep your loved one cool and comfortable in the heat are:
Serve Cool Drinks: Home care providers can offer the older adult plenty of cool drinks throughout the day, such as water or lemonade.
Offer Cold Snacks: Eating a cold snack on a hot day, like refrigerated grapes or a popsicle, can help to keep the body cool. A home care provider can bring the older adult snacks while they sit comfortably by a fan and relax.
Plan Outings to Air-Conditioned Places: Even when it's hot, being stuck inside the house can get boring. Home care can take the senior on outings to places that are inside and air-conditioned, like the library or a movie theater.
Use a Cool Washcloth: A home care provider can use a cool washcloth to wipe the older adult's arms and legs to help cool them down and keep them from feeling sticky from the heat.
Choose Cool Clothing: Older adults with cognitive problems may have difficulty choosing appropriate clothing for the weather. A home care provider can assist them to dress in light clothing that will keep them from getting too hot.
In addition to helping to keep your aging relative cool, a home care provider can watch for signs of heat illness. Home care can also be scheduled to check in on the senior more frequently during hot weather to ensure their home isn't too hot and they are well.
Sources
https://dailycaring.com/10-tips-to-keep-seniors-cool-in-hot-weather/
https://www.healthinaging.org/tools-and-tips/hot-weather-safety-tips-older-adults
https://www.nia.nih.gov/health/hot-weather-safety-older-adults
If you are considering home care services in Cinco Ranch, TX, for an aging loved one, please call the caring staff at At Your Side Home Care. We will answer all of your senior care questions. Call today: (832) 271-1600.
Latest posts by Donna Wrabel, LMSW
(see all)