Maintaining Senior Health With Home Care in Hunters Creek TX
Home Care Hunters Creek TX:  Maintaining Senior Health With Medication Reminders
One of the options provided by a home care agency is medication reminders. Knowing when to take medications on time will help someone who wishes to remain in their home as long as possible. Home care agencies will provide you with the necessities to do what is mandatory regarding your medications. One of the basics that you will receive is a caregiver, and although your caregiver will be unable to administer your medications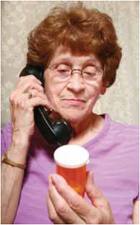 for you, he or she  will be around to remind you to take them when they're due, as well as to aid you if you need help. In addition, your companion will be there to help you keep track of your medications by making note of what you took and when you took it, ensuring that you are sticking with your doctor's orders and that you are not getting behind or overdosing.
True, your home care aid will not be accessible 24 hours a day, seven days a week, but that is fine. You can acquire your scheduled medication reminders through an automated system, which is a phone call that will be made at preset times. A computerized voice can either tell you your medications or ask you if you are feeling well. If the answer is yes, you will be instructed to push number one; if the answer is no, you will be instructed to push number two and will be connected to someone or contacted soon thereafter.

Aside from receiving medication reminders and phone calls on how you are feeling, you are going to receive the amount of personal attention needed to keep you healthy and alert. Because of this, you can rest comfortably at night, knowing that your medications are taken and that you are being well taken care of.
For more information about how a home care agency can help you stay healthy at home, contact At Your Side Home Care. We provide caregivers for many different levels of service in the Hunters Creek area to help you live comfortably. Call today, 832-271-1600.
For most of us, the word "home" evokes warm feelings of comfort, security and well-being. For older adults, home also means holding tight to cherished memories and maintaining self-esteem and independence. When illness, injury or age make life a little more challenging, remaining at home in a comfortable, familiar environment encourages recovery and enhances the quality of life. Home can be defined as a private residence, an independent or assisted living facility or even a short term stay in the hospital, we recognize the additional benefits provided by a personal, professional assistant.

Our Certified Nurse Aides, 24-Hour Live-in Assistants and Home Health Aides are available 24 hours a day, 365 days a year. We also provide the security and confidence of 24-hour Telephone Assistance, so fast, reliable help is always available when it's needed. To learn more about our homecare services see our homecare services page.

Different people need different levels of homecare. To meet the requirements of our clients, At Your Side Homecare maintains consistent staffing levels of caring professionals. Homecare service is available for as little as a few hours a week, or as many as 24 hours a day, seven days a week
Latest posts by Donna Wrabel, LMSW (see all)