Home Care in Houston, TX – Sharing the Facts of Glaucoma during Glaucoma Awareness Month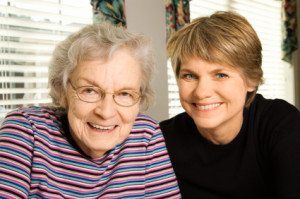 Keeping our senior loved ones healthy and disease free is something that is near and dear to our hearts. With that said, knowing what diseases are common among the aging population and what signs to watch for is important. One of such diseases is called Glaucoma, also known as "the sneak thief of sight."
Glaucoma rears this name because there are usually no apparent symptoms and the disease can cause blindness quickly. This is a permanent condition; it cannot be reversed. The month of January is dedicated to educating people on the disease and how to take preventative measures.
Family members or home care companions can help their senior loved ones by explaining what the disease is, how it can affect them, and how important it is to get regular eye exams. Sometimes, our senior family members don't want to tell us when things change because they don't want us to worry, but also because they don't want to admit that they are deteriorating in health or losing independence. It is vital to stress to them the importance of letting someone know if they have a change in vision.
Glaucoma is a disease that causes vision loss due to damage to the optic nerve. These nerves are the source for sending images from the eye to the brain. According to the World Health Organization, this disease is the second leading cause of blindness; this is especially true in people of African-American, Asian, and Latino descent.
The Glaucoma Research Foundation reports that 2.7 million people over the age of 40 have glaucoma and this number will continue to increase. People that are at a higher risk of contracting the disease include seniors over 60, people that are diagnosed with diabetes, people that are diagnosed as being severely near-sighted, and those that have a family member that has been diagnosed with the glaucoma.
There is no cure for the disease and that is why it is up to family members to be aware of the risks and statistics of glaucoma and pass the information on to their senior loved ones. A home care companion can also help with discussing glaucoma, its facts, statistics and risks with their senior clients.
A home care companion can also help with getting your senior loved one to regularly scheduled eye appointments. They can sit in with your senior family member at the appointment and report the details of the meeting to family members.
The Glaucoma Research Foundation suggests the following ways to help raise awareness of glaucoma:
If you are diagnosed with glaucoma, inform your family members so that they aware and can schedule an eye exam. Share any information you have about the disease with friends and especially with senior family members.
Get information from credible sources online and share the information with family and friends.
Request educational information to be sent out to you or a senior loved one in the mail.
Schedule regular eye exams and be sure to report any changes you might notice.
If you have a loved one who could benefit from the help of home care services in Houston, TX contact the caregivers at At Your Side Home Care. We help seniors and their families with many levels of home care service. Call (832) 271-1600 for more information.
Latest posts by Donna Wrabel, LMSW
(see all)