Home Care in Houston, TX – How Post-Polio Syndrome can affect the Elderly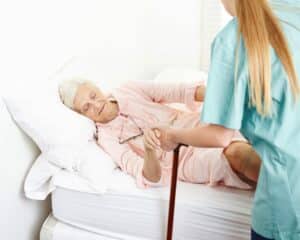 Polio, a viral disease that affects the nervous system, crippled thousands of people each year in the late 1940s and early 1950s in America. It was considered one of the most feared infectious diseases of the twentieth century. After the polio vaccine was introduced in 1955, years of use have managed to eradicate polio from the United States.
For those now elderly people who were affected by polio as children, post-polio syndrome (PPS) can affect them, years after their initial contraction of the virus. Although PPS is rarely or never life-threatening, the muscle weakness, atrophy and fatigue can cause painful symptoms. These conditions may bring about the need for your loved one to get some help from an in-home care provider.
Nancy's personal story
This is Nancy's experience with her grandmother. Nancy's grandma Grace had polio when she was 2. It affected one of her legs from the ankle to the hip. When Grace walked you noticed a slight limp because that leg was shorter and curved inward a little. Grace ate a healthy diet and she did a lot of walking, keeping herself in really good shape. Looking at her, most people wouldn't have even been able to guess that Grace had contracted polio when she was just 2 years old.
Grace lived alone in her own home where she had been for the past 70 years. She was now 92 years old. Recently, Grace started to feel muscle aches and weakness in her previously affected leg. There was pain and less mobility. Grace was finding it more and more difficult to maneuver the stairs that led from the front door of her house down to the sidewalk, making it impossible to go out on walks anymore. She also couldn't go down the basement stairs to use her laundry room.
Finding a solution for everyone
Nancy's mother Jane was in poor health and not able to assist with her own mother. So, it was up to Nancy to figure out how to help her grandmother Grace. Nancy was not available to provide care for her grandmother due to her own family; she still had 5 children at home. After talking it over with her grandmother, this is what they decided. Nancy would bring over a meal every Saturday and stay to help wash and curl her grandmother's hair. Nancy's children would come over and do a few things to help with the yard and house care. Grace felt like she could manage alright on Sundays because she wouldn't need to leave the house or go downstairs. For the weekdays from Monday to Friday, an in-home care provider would come over during the day to help Grace with her needs.
She would receive assistance to walk down the front stairs and then be given a ride to go get groceries, her caregiver would go on short walks with her, do the laundry for Grace and help her with other tasks. There's almost always a way to make things work!
If you have a loved one who could benefit from the help of home care in Houston, TX contact the caregivers at At Your Side Home Care. We help seniors and their families with many levels of home care service. Call (832) 271-1600 for more information.
Latest posts by Donna Wrabel, LMSW
(see all)