Help Your Elderly Loved One Better Their Brain Health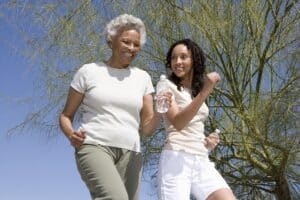 It is important to keep our brains sharp, especially as we get older. Some studies have shown that many elderly people get depressed and experience mental health issues. Perhaps, your elderly loved one has been in a state of depression. If so, you may know personally how important it is to better one's brain health and mental health. The good thing is that there are many ways to improve brain health.
Nature Time
Many elderly people have been stuck inside for months on end. If this is the case for your elderly loved one, they might be going a little stir crazy. They can start feeling depressed and begin to bottle up their feelings. Getting some nature time can help a person take a little control over their depression. Many studies have shown that spending at least 30 minutes out among the trees, clouds, and greenery can significantly improve physical, mental, and brain health. Even if your elderly loved one doesn't live near a forest area, they can still visit a local park or take a walk around their neighborhood. Just by getting outdoors, your elderly loved one is likely to feel better.
Opening Windows
Opening windows can help a person improve their brain health. The fresh air blowing through the house is likely to bring a smile to your elderly loved one's face. It could help their brain to be more active, as well. You might also want to get them a houseplant. Some studies show houseplants can increase a person's overall well-being. You or an elder care provider might even want to take your loved one to the store. They can pick out their own houseplant. This can be a fun event for everyone.
Picking Happy People
Many people believe that we are the sum of the five people we spend the most time with. This means picking happy people to spend time with will help improve brain health. As an elder care provider or family caregiver, take notice of the kind of people who are spending time with the elderly person in your life. Sit down with both your elderly loved one and the people who visit them. Get to know these people. This will help you know if they are improving your loved one's brain health or hindering it.
Conclusion
There are many ways to help your elderly loved one better their brain health. You can start by getting them out in nature, opening some windows in their home, and doing your best to make sure they are picking the right people to spend their time with. You can also encourage them to exercise, read books, and help them write a journal. These things are all beneficial for better brain health.
Sources
https://acl.gov/sites/default/files/news%202016-10/BrainHealthEducatorGuide.pdf
If you are considering elder care in Cinco Ranch, TX, for an aging loved one, please call the caring staff at At Your Side Home Care. We will answer all of your senior care questions. Call today: (832) 271-1600.
Latest posts by Donna Wrabel, LMSW
(see all)