Having the Conversation with a Parent about Elder Care in River Oaks, TX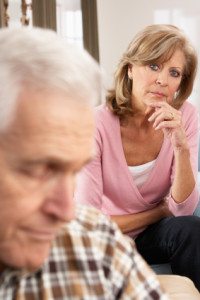 It's not something that you plan on, or want to think about, but when you realize that your parent or other elderly loved one might need elder care, the conversation could be the toughest thing to have in the beginning.
You don't want to offend them by bringing up the fact that you notice he or she is having more difficulty getting around or doing some of the things that they used to do without a problem. You also don't want to bury your head in the proverbial sand and hope that nothing bad happens, like them falling off of a stepladder, tripping while coming up the stairs, or getting injured trying to take a shower.
Yes, there are things that you can do to help improve the overall safety within their home, such as installing grab bars, non-slip pads in the shower stall or tub, and even considering stair lifts, but at some point, they may require more than just a few safety features.
That starts with a conversation. The conversation, however, begins with gathering as much information as you can about the various resources that are available for your loved one, the type of care that is offered by different agencies and organizations, and how the right level of elder care can have a significant and positive impact on their life.
Once you have all of the information at your disposal, you may want to talk to other family members, such as siblings. Get their perspective on your loved one's health and well-being. They might see things differently than you and they may feel that you're being over protective at this time. You are entitled to disagree, but the more people with whom you talk, the better sense of the true nature of your loved one's safety and well-being at home.
When you come to the conclusion that elderly home care is the right course of action, then sit down and explain to your loved one why you feel it's important to talk about and spend some time discussing. Make sure that he or she knows it's ultimately their decision; this will provide them with a sense of control, which they may feel that they're losing as time progresses.
Be prepared to be met with resistance and if you don't feel that they are receptive to the idea and could become belligerent, and it could harm your relationship, drop the subject for now. You can bring elder care up again in the future. Plant the seed first and then step back.
If you have a loved one who could benefit from the help of home care services in River Oaks, TX contact the caregivers at At Your Side Home Care. We help seniors and their families with many levels of home care service. Call (832) 271-1600 for more information.
Latest posts by Donna Wrabel, LMSW
(see all)