Fun Ways for Children to Show Grandparents They Care
Elder Care in Memorial, TX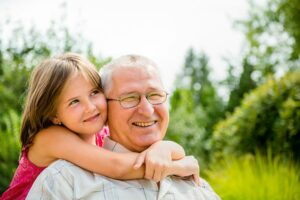 While we may have just celebrated Grandparent's Day over the weekend, there are always opportunities throughout the year for children to share their love and appreciation for their grandparents. There are many ways they can demonstrate how much they value them, and here are just a few that you may want to try.
Making the Every Day Special
Handmade Greetings: Encourage grandchildren to hand make greeting cards specifically outlining how special their grandparents are to them. Older grandchildren can fully take advantage of this project through the use of photography, poetry, and other craft materials. Younger children will need help searching for quotations, as well as guidance with drawing.
Scheduled Visits: By taking turns to visit throughout the day, grandchildren aren't bombarding their grandparents with too much activity at once. Those assisting with home care can help with the scheduling and, if too many people will fit into one day's schedule, then this benefits the aging loved one because it provides socialization on more than one occasion.
Create Memory Videos: Each family can create a video about what they love most, their happiest memories, or their favorite stories about their grandparent. Then, on a birthday or other gift-giving holiday, the video can be given along with the rest of their gifts.
Visiting From Afar
When grandchildren are too far away to visit on a regular basis, it's still possible to connect and celebrate. Those assisting with in-home care can help with the set-up process and facilitate the visitation to ensure it goes smoothly.
Here are some ideas:
Video Chats: there are a number of programs, including Skype.com or FaceTime.com, allowing users to communicate using an Internet connection and an electronic device. These devices can be tablets, laptops, smartphones, or any device that is compatible with these programs.
Speaker Phone: some aging loved ones receiving help with senior care have difficulty hearing on phones, so the use of a speakerphone is an option to consider. That way, more than one person can participate in the conversation as well.
Final Thoughts
When planning visits and activities that involve your senior loved one's on a regular basis, it's important to take into consideration their energy level and health issues. They may become too fatigued to handle everything planned, therefore keeping additional days available to shift their schedule is a good idea. Those assisting with elder care can help assess their fatigue and make any schedule changes as needed.
If you have a loved one who could benefit from elder care in Memorial, TX contact At Your Side Home Care. We help seniors and their families with many levels of home care service. Call (832) 271-1600 for more information.
Latest posts by Donna Wrabel, LMSW
(see all)