Four Ways to Dig Deeper into Why Your Senior Doesn't Want Help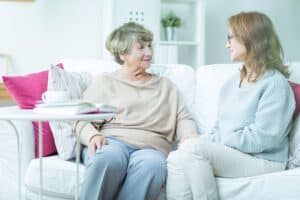 Understanding why your senior won't accept help from others is a vital part of helping her to come to terms with things like having home care providers around more often. Take your time, keep your patience, and try to understand where your senior is coming from.
Ask Pointed Questions and Really Listen to How She Answers
How you ask questions of your senior matters a lot. If you ask surface questions that she can give you vague answers to, she's likely not going to expound upon any information she gives you. Closed-ended questions, or questions that she can respond to with a simple yes or no, aren't going to help you here. Something else that can help is for you to really listen to the answers she's giving you. You're going to need that information.
Use What You Learn to Pose Better Questions
The beauty of collecting information you can use is that you can put it to use right away. Start taking those answers and using them to frame deeper questions that allow you to get even closer to what's going on with your senior. Answers that she gives you at first are only part of what's going on. For instance, she might let you know that it seems odd to have someone in her home at first, but when you probe deeper, she lets you know that she's worried about whether she'll have to leave her home. These seem unrelated, until you factor in that she's got privacy and independence concerns wrapped up into all of those worries.
Give Her Choices, but not an Overwhelming Amount
Something that's easy to forget is that choices matter immensely at this stage of your senior's life. It's really difficult to go from having control over your own life to suddenly feeling as if someone else is completely in charge. When you can, make sure that you include options for your elderly family member. You need to be careful not to overwhelm her with all of the choices in the world, though, because that can get scary quickly.
You May Have to Just Hold Space
At some point, you may have to simply wait for your senior to change her mind about whether she's willing to accept help or not. This amounts to holding space for her to feel comfortable with the changes you're proposing. This doesn't mean that you shouldn't do what you can to meet your own needs, though, including taking respite time if you have the opportunity. You may need to compromise with her, especially if she needs care while you're gone.
Introducing home care slowly to your senior can be a good solution, but she does need to be at least slightly open to the idea. Explain the benefits to her and ask her to keep an open mind, like you're trying to do for her.
If you are considering home care in Memorial, TX, for an aging loved one, please call the caring staff at At Your Side Home Care. We will answer all of your senior care questions. Call today: (832) 271-1600.
Latest posts by Donna Wrabel, LMSW
(see all)