Four Suggestions if Your Senior Doesn't Believe She's Unable to Drive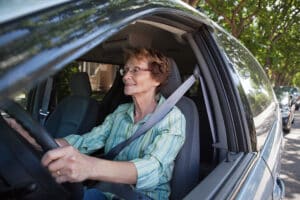 There may be no doubt in your mind at all that your elderly family member can no longer drive, but that doesn't mean that she agrees. In fact, she may be convinced that she's still able to drive for many years to come.
Bring Her Doctor in to the Discussion
Your senior's doctor may have far more influence over her actions and reactions than you might realize. When a statement comes from you or from other family members, it might not hold a lot of weight. The same words from her doctor, on the other hand, make a huge difference. So if she's still not convinced that driving is no longer for her, it might mean setting up a talk with her doctor so that she can get an explanation that she'll believe.
Adjust Her Identification Cards
Once your senior is no longer able to drive, the Department of Motor Vehicles may suspend or even revoke her driver's license. In that case, she might be better off with a state-issued identification card. These usually look slightly different than a driver's license, and the act of going to get the new ID card may help to cement the idea that she's not able to drive anymore. It's also something tangible that she can see and hold, which can help her to process the idea.
Keep Transportation Available for Her
The biggest problem, beyond simply wanting to continue to drive, is going to be how to ensure your senior can still get where she needs and wants to go. This is easy if you and other family members are always there with her, but that might not always be the case. Elderly care providers are another option. They can make sure your senior has safe, reliable transportation wherever she plans to go, whenever she decides to go.
Address the Vehicle as Soon as Possible
The elephant in the room might be your senior's vehicle, though. If she's still insisting on driving, you might have to do something with your elderly family member's car. This might mean disabling the vehicle if there's no other option or selling it to someone else. Neither of these solutions might feel good to you at the time, but until you address the situation your senior isn't likely to give up.
It's a big shock for your senior to find that her life has changed as dramatically as no longer being able to drive. She may have counted on doing so for the rest of her foreseeable future, which makes the entire situation worse. Try to remember to be compassionate about what's happening.
If you or an aging loved one are considering elderly care in West Memorial, TX, please call the caring staff at At Your Side Home Care. We will answer all of your senior care questions. Call today: (832) 271-1600.
Latest posts by Donna Wrabel, LMSW (see all)