How to Help Your Senior Stay Mentally Active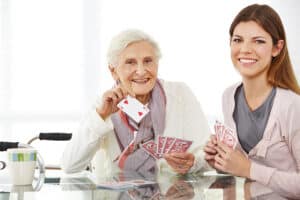 Your senior's brain health is a key part of helping her to maintain her overall health. It's also an important part of preserving her quality of life and allowing her to remain as independent as possible for as long as she can. These tips can help.
Pull Out the Cards and the Board Games
Playing cards and board games might seem simplistic, but they involve learning and following the rules and spotting patterns. They're also a great way to interact with your aging adult and just enjoy conversation. Another great idea is to establish a board game night with friends and family. This adds another socialization layer and helps to work your senior's brain.
Focus a Little Bit on Current Events
There's a lot that goes on in the world around you and your senior, even if you feel a little isolated from it sometimes. Something that can help is to help your elderly family member to keep up with the news on both a local and a wider scale. This keeps your senior involved in what's going on around her and also gives her topics to think and to talk about.
Reading Is Always Effective
If your elderly family member enjoys reading, that's a fantastic way to keep her brain active and engaged. It doesn't matter what she enjoys reading, either. Whether she reads lots of fiction or prefers non-fiction, the effect is the same. Her imagination and her brain are fully involved.
Word Games Are Helpful, Too
Crossword puzzles and other types of word games are fun and portable. Your senior can take them with her when she has to wait somewhere or she can do them at home. They give her a challenge that she might also find to be enjoyable. Some can help her to learn new words to add to her vocabulary.
Find Some New Hobbies
Hobbies can light up your aging family member's brain and her heart. If she had a hobby years ago that she enjoyed, help her to determine if that's something she wants to try again. If not, there may be some new hobbies that she might find enjoyable. Encourage her to try a variety of different things to find a new favorite.
Keeping your senior's brain active and healthy is a vital part of her overall well-being. Scheduling some of these activities can be a good way of including them in every day. Elderly care providers can help your elderly family member to not only stick with a schedule, but also to hit a variety of other goals, too.
If you or an aging loved one are considering elderly care in West Houston, TX, please call the caring staff at At Your Side Home Care. We will answer all of your senior care questions. Call today: (832) 271-1600.
Latest posts by Donna Wrabel, LMSW
(see all)