Safety Tips Your Mom Must Follow When Walking Her Dog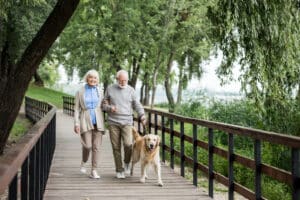 The number of Americans 65 or older who walk dogs each day has increased, but so have the injuries. Between 2004 and 2017, the number of adults who fell and fractured a bone while walking a dog topped 32,000. In 2017 alone, the number of dog walking-related injuries in older Americans neared 4,400.
If your mom has a dog and goes for daily walks, she must focus on safety. She doesn't want to injure herself and end up needing weeks or months to recuperate.
Make Sure Her Dog is Trained
Training a dog will help correct many bad behaviors. Arrange to have your mom take the dog to obedience classes. The classes work on the common behaviors that are problematic like pulling, not listening to commands, and aggression with other dogs. Your mom's vet will have recommendations for an obedience class.
Use a Short Leash
While long retractable leashes are handy for letting the dog explore, they also become easily tangled because of their length. Your mom needs to go for a shorter leash and keep the dog at her side.
Socialize Her Dog
The dog needs to be socialized. If it sees other dogs and starts jumping or pulling to get to it, your mom is more likely to get pulled over. Make sure her dog socializes with other dogs regularly. A trip to a fenced dog park allows the dog to run around and make friends, which will help.
Teach the Dog Not to Pull
Pulling is one way a dog could cause your mom to fall. From as early as possible, the dog should be taught leash manners and a "no pull" command to correct pulling. While walking, the dog needs to be near your mom and walking at her pace. If the dog speeds up and pulls, corrective actions must be taken.
One way to correct pulling is by stopping and standing still. When the dog realizes that your mom isn't moving and returns to her, the dog should be praised for "heeling." Small treats, such as pieces of dehydrated chicken, will help reinforce this important lesson.
After a fall, a broken bone will need time to heal. Arrange to have elderly care services for your mom during her recovery. She can have a caregiver doing her laundry, keeping the house clean, and cooking meals. An elderly care specialist can help you make arrangements.
Sources:
https://www.ajmc.com/newsroom/walking-leashed-dogs-associated-with-fractures-in-elderly-adults
If you are considering elderly care in Spring Branch, TX, for an aging loved one, please call the caring staff at At Your Side Home Care. We will answer all of your senior care questions. Call today: (832) 271-1600.
Latest posts by Donna Wrabel, LMSW
(see all)