Reading Together: A Heartwarming Elder Care Story in River Oaks, TX
Mark had never really been all that close to his father. Throughout his childhood, his father was working all the time and never made it to any of his school activities or even his soccer games. He would look to the sidelines with longing, seeing other parents there cheering on their kids and he wished that his father could have made at least one.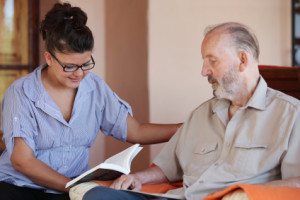 Then he went to college, his father left his mother for another woman, and the anger reached a point when he just didn't want anything to do with him anymore. Through the years, Mark learned to forgive, with the help of his mother's insistence, and began to open up a new relationship with his father. However, he had never really felt close to his father until his father suffered a heart attack and needed elder care.
Mark's father lived not far from him –only thirty minutes in the car- but he had no interest in providing any level of regular care to him. He worked full-time and even though he was single, he knew that providing that level of care to his father would take up almost all of his free time and he had a life of his own to live.
So he hired home care for the elderly and they did a great job at supporting him at home. One day, the elderly home care provider suggested that Mark spend a little more time with his father, maybe even read with him. "Your father has all these books around the house, but I never see him read," the elderly home care provider said. "I think he doesn't see up close too well anymore."
So Mark decided to stop by after work one day a week and read of book with his father. To his surprise, his father was excited about this idea and they began to read The Old Man and the Sea by Ernest Hemingway. It was a book that his father had always wanted to read, but had never gotten around to it. Now, with his glaucoma, he couldn't make out the words on the page anymore.
Mark and his father read the book together, and while they would finish a chapter, his father would begin to recall a memory that he had of Mark as a child. Mark learned that his father had always been proud of him, that he had wanted to be there for him, but working two jobs (which Mark never knew) wouldn't allow him the time. Mark and his father became closer than ever because they spent some quality time together.
If you have a loved one who could benefit from the help of elder care services in River Oaks, TX contact the caregivers at At Your Side Home Care. We help seniors and their families with many levels of home care service. Call (832) 271-1600 for more information.
Latest posts by Donna Wrabel, LMSW
(see all)