Even Light Activity Benefits an Older Woman's Health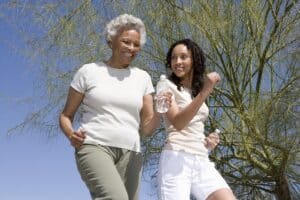 Experts recommend every American gets at least 30 minutes of moderate activity daily. When your parent ages, that 30 minutes can seem impossible to manage. New studies find that older women benefit from light activity, too.
In the JAMA study, it was found that light activity like gardening, daily walks, and household chores lower the risk of cardiovascular disease. In fact, it can lower that risk by as much as 22 percent and lower the risk of heart attack by more than 40 percent.
What Are Some Good Light Activities?
A slow walk around the neighborhood or along a public park is one popular form of exercise. It doesn't require special equipment or fees. Your mom can take a walk around her block or yard and gain enough exercise for it to help protect her heart.
If your mom can't walk far or bend, put in patio planters or raised beds for her. Gardening gets her out in the sun for vitamin D and fresh air. It also helps her grow crops that will benefit her diet. Basil, tomatoes, bell peppers, and kale are all easy to grow in a container or raised bed.
How about a Yoga class? Chair yoga is ideal for beginners. Your mom won't have to stand to do the poses. She can sit and tone and strengthen her joints and muscles from the safety of a chair. If she is able to stand without issue, she could take a Yoga class geared towards beginners.
Your mom could make bread. The most intensive aspect of bread baking is kneading the dough. It takes a bit of strength in the arms, shoulders, and wrists. From a seated or standing position, she could work the dough for the required 10 to 15 minutes. That activity is enough to give her a light workout.
Bring in Elder Care to Help Her Remain Active
As your mom's ability to complete activities of daily living changes, make sure she remains independent. The help of an elder care aide is key to helping her age at home. She gets the help she needs without giving up her freedom or independence at home.
Caregivers can join your mom on walks. They can drive your mom to a local park or help her in the garden. They can also supervise her when she does the housework. Caregivers can drive her to Yoga classes and parks, too. Call an elder care agency to find out more about rates and services.
Sources:
https://www.nhlbi.nih.gov/news/2019/light-physical-activity-shows-benefits-heart-health-older-women
If you or an aging loved one are considering elder care in Galleria, TX, please call the caring staff at At Your Side Home Care. We will answer all of your senior care questions. Call today: (832) 271-1600.
Latest posts by Donna Wrabel, LMSW
(see all)