5 Ways to Relieve Arthritis Pain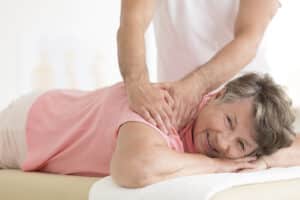 Arthritis is a painful condition that affects many older adults. Unfortunately, there's no cure for it. However, that doesn't mean there's no way to help them feel better. In addition to following the doctor's advice, there are things seniors can do at home to relieve the pain. Below are 5 things to try that could help soothe arthritis pain.
#1: Use Turmeric in Cooking
Turmeric is a spice that is commonly used in Indian cooking. It gives many Indian dishes their distinctive yellow color. Research indicates that turmeric may help fight the inflammation caused by arthritis because a chemical it contains, called curcumin. Admittedly, there is no definitive proof at this time that eating turmeric is effective for arthritis pain, but it's a tasty spice and it won't harm your aging relative to try it. Elder care providers can prepare meals using turmeric for the older adult. An elder care provider can even take the senior grocery shopping for their weekly groceries.
#2: Use Massage
Gently massaging painful joints can help to loosen them up and relieve the pain. It does not have to be a professional massage. The senior, a family caregiver, or an elderly care provider can gently rub painful joints. If it hurts to rub the joint, try applying heat before massaging it. Lotion or oil can also prevent friction from injuring the senior's skin.
#3: Serve More Fish
Eating fish that contain omega-3 fatty acids may help with inflammation. Omega-3s are found in fatty fish like salmon, herring, and tuna. There are fish oil supplements that contain omega-3s as well. However, the older adult should talk to their doctor before trying any supplements. Elderly care providers can take your aging relative to the market to purchase fish and cook it for them.
#4: Wear the Right Shoes
Wearing the wrong shoes can place added strain on knees and hips. According to one study, the best shoes for relieving arthritis pain in knees are flat, flexible shoes, like sneakers. An elder care provider can take the older adult shopping for shoes and help them choose a pair that will not only help with arthritis pain but will also be safe to walk in and prevent falls.
#5: Exercise More
Painful joints may make your aging relative reluctant to exercise. However, regular exercise can reduce pain by keeping joints flexible. It also helps to strengthen the muscles that support joints. Also, sitting still for too long can make joints stiff. An elderly care provider can assist the older adult to move around more. They can make sure the senior gets up at least once every hour and moves around a bit. Elder care can also assist with daily exercise by going for walks with the senior or monitoring them while they exercise at home to make sure they stay safe.
Sources
https://dailycaring.com/7-tips-arthritis-pain-relief/
https://www.healthline.com/health/osteoarthritis/arthritis-natural-relief
https://www.arthritis.org/living-with-arthritis/pain-management/tips/arthritis-pain-relief-alternatives.php
If you or an aging loved one are considering elder care in Cinco Ranch, TX, please call the caring staff at At Your Side Home Care. We will answer all of your senior care questions. Call today: (832) 271-1600.
Latest posts by Donna Wrabel, LMSW (see all)