5 Reasons Seniors Should Give Audiobooks a Try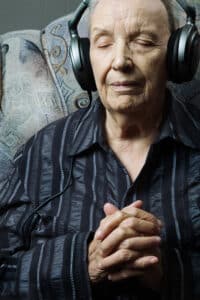 Sometimes it can be difficult for family caregivers to find activities to help older adults to pass the time. This can be especially true if the senior has limited abilities because of illness or disability. If your older family member has not tried listening to audiobooks, they may be a good option for an enjoyable activity. If you're still uncertain whether audiobooks are right for your loved one, below are 5 reasons to give them a try.
#1: A Way to Continue to Enjoy Reading
Some seniors give up reading because of vision problems that make it impossible to see the print on the page. Or, those with arthritis in their hands may find holding a book to be painful. Listening to an audiobook doesn't require good vision. The senior may need some help choosing a book and getting it started, but after that, vision doesn't matter. And, there's no need to hold anything while listening to an audiobook. They can be listened to using a computer, smartphone, or tablet, which can be set beside the older adult.
#2: Audiobooks are Fun
Audiobooks are read by professionals who use inflection, accents, and different voices to bring the story to life. Sometimes they are even read by famous actors. Listening to an audiobook can be similar to watching a movie.
#3: Audiobooks Allow for Multitasking
Older adults can perform other tasks while also listening to an audiobook. For example, if your elderly mom likes to knit, she could do so while the audiobooks play. Audiobooks are also a great way for caregivers to keep an older adult busy while sitting in a waiting room before an appointment. They are portable since there are apps that can be downloaded to a smartphone or tablet.
#4: Audiobooks Can Be Listened to In the Car
If you have a long car ride coming up with your aging relative, listening to an audiobook can be enjoyable for both of you. It helps to pass the time and can make the trip seem much shorter.
#5: Seniors Can Listen for Free
Although there are pay services you can buy audiobooks through, they can also be checked out from the library for free. Caregivers can assist older adults to get a library card if they don't have one—which is also free. Libraries have audiobooks on CDs that can be checked out from the library. Most of them also have online services that can be used to check audiobooks out from home.
If you or an aging loved one are considering caregivers in Spring Branch, TX, please call the caring staff at At Your Side Home Care. We will answer all of your senior care questions. Call today: (832) 271-1600.
Latest posts by Donna Wrabel, LMSW
(see all)