Is It Normal for Caregivers to Feel Guilty?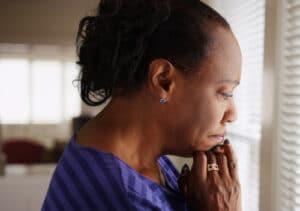 Emma was one of her grandmother's family caregivers. In addition, she had a full-time job and an infant daughter to care for. Sometimes when she visited her grandmother to help her with cooking meals for the week or getting her laundry done, she felt guilty when she left. She admonished herself for not being able to get that last load of laundry done or because the meals weren't as balanced as they should be. But, when she spent extra time with her grandmother, she felt guilty about leaving her daughter with the sitter longer. When Emma brought up her feelings in her caregiver support group, she thought the other members would think she was crazy or laugh at her. To her surprise, nearly every person in the room nodded their head and many offered their own stories about times when they felt guilty.
Guilt is a common emotion for family caregivers. It often comes from feeling overwhelmed by the responsibilities and time commitment involved in the role. However, there are ways caregivers can overcome the guilt and feel better about themselves and the value of the things they do for their aging relative. Below are some tips for ways to get past your caregiver guilt.
Realize You're Not Superhuman
Caregivers sometimes think they should be able to swoop in and solve all of an older adult's problems like some kind of superhero. When that doesn't happen, they feel like they have failed, which causes guilt. You do not owe your aging relative perfection. You owe them your best effort, which will lead to the best possible outcome.
Leave "Should Haves" Behind
One of the reasons that caregivers sometimes feel guilty is that they think they should have been able to do something to prevent the senior's illness or because they didn't spend as much time with them before they needed a caregiver. You cannot predict the future, so there is no way you could have known they were going to get ill. What matters is that you are here now and are doing your best to improve their situation now.
Know Other Relationships Need Nurturing, Too
You have people in your life other than the older adult you are a caregiver for who need your attention, too. It's important for you to maintain those relationships. Friendships and other family members can be an important part of your personal support system when being a caregiver gets especially difficult. Plus, they give you an opportunity to take a break from caregiver duties. So, don't feel guilty for spending time with other people. You need them and they need you.
Sources
https://www.aarp.org/caregiving/life-balance/info-2017/living-with-guilt-bjj.html
https://www.caregiver.org/emotional-side-caregiving
https://dailycaring.com/5-tips-for-dealing-with-caregiver-guilt-in-dementia-care/
If you or an aging loved one are considering caregivers in Houston, TX, please call the caring staff at At Your Side Home Care. We will answer all of your senior care questions. Call today: (832) 271-1600.
Latest posts by Donna Wrabel, LMSW
(see all)