Ways to Serve Healthy Asparagus for Seniors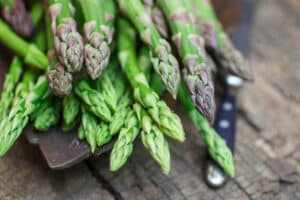 One of the great things about spring is that it means the growing season has started. One of the harbingers of the growing season is asparagus. It's one of the first vegetables to poke through the soil. Its growing season is short, though, so for seniors who like asparagus, family caregivers will want to start serving delicious asparagus dishes now.
Health Benefits of Asparagus
Asparagus has been around for a long time. People in the Mediterranean region started growing it around 2,000 years ago. They are a member of the lily family. One of the more interesting things about asparagus is how remarkably fast it grows. An asparagus shoot can grow as much as 10 inches in a 24-hour period! It comes in three main varieties: green, white, and purple.
All varieties of asparagus have wonderful health benefits, so they're an excellent option for family caregivers looking to improve their aging relative's diet. Some of its benefits are:
Low Calorie: 20 calories per half cup.
Nutritious: Contains vitamins C, A, K, and E, Potassium, and Phosphate.
High in Antioxidants.
High in Fiber.
Reduces Blood Pressure: The potassium in asparagus may help to lower blood pressure.
Ways to Serve Asparagus
Asparagus is a versatile vegetable. It can be used in everything from soups to casseroles to side dishes. It's also delicious served on its own. Some ways you can serve asparagus are:
Roasted: Place spears of asparagus in a bag and drizzle in a little olive oil. Shake the bag to distribute the oil, then put the asparagus on a baking sheet in a single layer. Roast in the oven to desired tenderness.
Steamed: Place asparagus in the top of a steamer pan with water in the lower part. Boil the water until asparagus is tender.
Infuse Sauces: The ends of asparagus may not be the best to eat because of their woody texture, but they can be used to infuse sauces with flavor. You can also blend the cooked ends and add them to the sauces.
Salad Ingredient: Blanch the asparagus and use a peeler to shave some of it on top of a salad.
Grilled: Drizzle olive oil on asparagus and place it on the grill. You may want to use a grill pan to prevent the spears from falling through the grate.
Caregivers can use asparagus to add some extra nutrients and a lot of flavor to the diets of their older family members. Seniors and caregivers can even grow their own asparagus. It's a plant that grows year after year without needing to replant it. You can even grow it in a raised bed.
Sources
https://www.aarp.org/health/healthy-living/info-2019/spring-asparagus-recipe.html
https://www.healthline.com/nutrition/asparagus-benefits
https://www.webmd.com/diet/features/the-health-benefits-of-asparagus
https://www.bbcgoodfood.com/howto/guide/how-serve-asparagus-12-new-ways
If you or an aging loved one are considering caregivers in Cinco Ranch, TX, please call the caring staff at At Your Side Home Care. We will answer all of your senior care questions. Call today: (832) 271-1600.
Latest posts by Donna Wrabel, LMSW
(see all)