Not Everyone is Able to be a Caregiver in The Woodlands, TX: What to Do When You're Not
Melissa had always been close with her mother, so when she needed some level of help to live at home, she was more than happy to step up and be her caregiver. Her brother and sister told Melissa that they should hire a professional home care provider, but Melissa didn't see the point in that. Why hire someone to do that when you're more than capable of doing it yourself?
So she set out to make a plan and help her mother. Melissa was one of those adults who had never really had much direction in her life and while she was struggling to make ends meet with minimum wage jobs. So when she had an opportunity to move in with her mother so that she could care for her, she knew that it was something that she was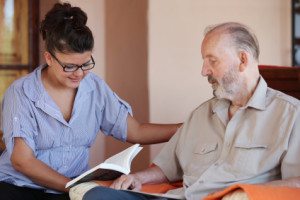 going to do.
However, quickly she realized that she wasn't cut out to be providing home care to her mother, or anyone for that matter. Her mother needed assistance with many activities around the house. She required help getting in and out of the shower. She needed help sometimes getting on and off the toilet. She needed help cleaning, getting up and down the stairs, and even cooking. Melissa quickly realized that her mother needed care that she was uncomfortable providing at times and care that went around the clock.
Melissa was still working at two jobs and trying to save up some money. She was getting paid for the care she provided to her mother by her siblings, but it wasn't enough; she found out that this wasn't the type of job that she wanted or could handle. It wasn't so much the work because she figured that she could do it for just about anyone else. It was because she was finding it difficult to get along with her mother.
She felt as though her mother was taking advantage of her, and they were arguing more than they were talking in time. She talked to her brother and sister about it and they told her that it was time to consider hiring a professional home care provider. This would mean that Melissa would have to move out again, but she knew it was the right thing to do.
Her relationship with her mother, keeping it a positive one, was more important than trying to be the primary caregiver.
If you have a loved one who could benefit from the help of home care services in Hillshire Village, TX contact the caregivers at At Your Side Home Care. We help seniors and their families with many levels of home care service. Call (832) 271-1600 for more information.
Latest posts by Donna Wrabel, LMSW
(see all)