Deciding if a Home Caregiver is Right for Your Aging Parents in Houston, TX
Have you recently noticed that your aging parents are having difficulty maintaining their home, keeping up with their medical needs or simply fulfilling activities of daily life? Even if you don't feel as though your aging loved ones have medical, cognitive or emotional needs that necessitated transition into an assisted living facility for nursing home, a home caregiver may offer a valuable resource.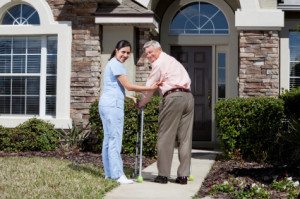 A home care provider can provide many types of assistance for your aging loved ones to that they are able to remain in their own home while also ensuring that they are safe, happy and healthy. But how do you decide if a home caregiver is right for your aging parents? It is important to realize that every senior is different, and even if you think that hiring a home care provider would be the best senior care arrangement for your aging loved ones, it can be helpful to gain another perspective.
When trying to make the decision as to whether a home caregiver is right for your aging parents, don't hesitate to contact a senior care agency in your area. Tell them that you are considering providing home care for your aging loved ones and are interested in gaining more information about what a caregiver can offer. Consider asking the following questions and use the answers to determine if this type of arrangement sounds appropriate for your parents:
What type of training have the home care providers undergone?
Do you employee both male and female home care providers?
What types of assistance outside of mobility and hygienic concerns can a caregiver provide?
How long is the average shift of the caregiver?
What if I am not comfortable with the caregiver that is provided?
What if the home care provider that is assigned is not compatible with my parents?
How is billing handled, and who will I pay?
Can the home care provider give recommendations for nutrition, and can she handle some light meal preparation?
Do you have availability for 24 hour home care?
You may not be able to make a decision regarding hiring a caregiver immediately. This is a big decision, you want to make sure you are making the one that is right for your parents. Remember that a home caregiver is not a nurse, and if you feel that your parents have medical concerns that will require specialized treatments or the administration of medication, a caregiver is not the right choice for you. Carefully evaluate your parents and the potential benefits that they may glean from a home care provider so you can feel confident that you are making the care decision that will provide them with both dedicated fulfillment of their needs and a high quality of life.
If you have a loved one who could benefit from the help of caregiver services in Houston, TX contact the caregivers at At Your Side Home Care. We help seniors and their families with many levels of home care service. Call (832) 271-1600 for more information.
Latest posts by Donna Wrabel, LMSW
(see all)