Hiring A Caregiver in Garden Oaks TX Helps With Peace Of Mind
Hiring A Caregiver in Garden Oaks TX Can Easily Help Eliminate Falls and Keep Seniors Safe at Home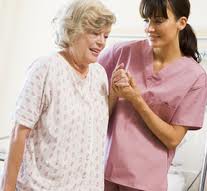 When an aging loved one can no longer navigate their own home safely, it may be time for you to employ a caregiver. They provide safety, relaxation, care, support and dependability, all from the comfort of the seniors home. This can also diminish any stress and anxiety the rest of the family may be feeling. Here are some pros to hiring a caregiver.
Caregivers hired through an agency are pre-trained, screened and in case they call in sick, a back-up will be available to fill in. They are trained to be aware of possible dangers and safety concerns with respect to medication and falls and aid in daily activities.
Recognizing possible dangers is crucial and really should be at the top of the list when it thinking about senior care. A caregiver should be able to check on the care recipient daily to make sure everything is in order and if there are any medications that need to be taken, it's done so in a timely fashion. They will also have the capacity to ensure that there aren't any fallen objects or tripping dangers lying around your home that could cause a safety concern. CPR and first aid is also a requirement for someone in this field and will be an asset in case an emergency occurs.
Carrying out daily chores can become a challenging task for some seniors. Activities like changing light bulbs, getting the mail in icy weather, grocery shopping, cleaning, and meal preparation can all be demanding. Employing a caregiver will give the care receiver and the family peace of mind that they can still live in their own home, yet have guidance in conducting these jobs that they can no longer do by themselves.
A caregiver will also be able to assist with personal care needs. These may include help in the bathroom, bathing, dressing and aiding in their mobility. Aides can also offer companionship to seniors living on their own. By having a professional supply continual daily care, the care receiver will feel comfortable and have less anxiety knowing that someone is looking out for their best interests and making them their top priority.
If your family is looking for a caregiver to help with the care of your aging loved one, contact At Your Side Home Care. We are a home care agency providing affordable and quality care in your neighborhood. Call 832-271-1600 today!
Latest posts by Donna Wrabel, LMSW
(see all)