5 Ways to Add Flavor Without Salt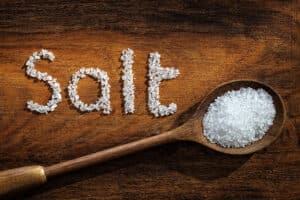 If your aging relative has been diagnosed with high blood pressure (hypertension), their doctor has probably advised them to make some dietary changes. One of those changes is likely to reduce the amount of salt they eat each day. According to the American Heart Association, adults should eat no more than 2,300 mg of sodium per day. However, they say it's even better to keep sodium intake to 1,500 mg or less. One way to reduce the amount of sodium your older family member eats each day is to find other ways to add flavor to food without sprinkling salt on it. Below are 5 delicious ideas that may help.
#1: Try a Little Vinegar
Vinegar is a great way to bring some extra flavor to a dish. And, since there are so many different kinds of vinegar, there's one to go with nearly any dish you make. The website thekitchn.com suggests adding a little vinegar to make a pan sauce for chicken or using vinegar to coat roasted vegetables.
#2: Use a Salt-Free Substitute
When recipes call for salt, substitute something else, like a commercially made salt-free substitute You can find several options in the spice aisle of the grocery store. They come in a variety of flavors, so you can use the one that best matches the dish you are making. Or, you can make your own using this recipe recommended by WebMD:
1/2 teaspoon cayenne pepper
1 teaspoon mace, ground
1 teaspoon basil, ground
1 teaspoon onion powder
1 tablespoon garlic powder
1 teaspoon black pepper, ground
1 teaspoon thyme, ground
1 teaspoon sage, ground
1 teaspoon parsley, dry flakes
1 teaspoon marjoram
1 teaspoon savory, ground
#3: Serve What's in Season
Fresher produce has more flavor, so it can help to eat what is currently in season. As an added benefit, fruits and vegetables that are in season are often less expensive than other produce. Not sure what's in season now? A quick Internet search can solve the mystery! Or, you could strike up a conversation with the produce manager at your local store.
#4: Add Cheese
Cheese has a salty flavor and can bring flavor to a dish without adding a lot of salt. Plus, you don't have to add much cheese to get a flavor boost. Be careful, though, since cheese does contain salt. opt for lower-salt kinds, like mozzarella.
#5: Use Aromatics
Aromatics are things like onions, garlic, and shallots. Adding extra to a recipe instead of using salt provides a flavor boost. In fact, you can add sautéed aromatics to almost any dish you make.
If your older family member is struggling to lower their sodium intake, senior care can help. Senior care providers can make meals that use less salt. To help your loved one make better food choices, a senior care provider can take them grocery shopping and help them to read labels. By having a senior care provider along for the shopping trip, the older adult also has the benefit of having someone to escort them into the building, avoiding slippery spots or uneven surfaces in the parking lot that could cause a fall. The senior care provider can also help with pushing the heavy cart and carrying grocery bags.
Sources
https://www.thekitchn.com/5-ways-to-add-flavor-without-adding-more-salt-250250
https://www.cookinglight.com/healthy-living/healthy-habits/add-flavor-without-salt
https://www.webmd.com/food-recipes/guide/low-sodium-recipe-cooking-tips#1
https://www.heart.org/en/healthy-living/healthy-eating/eat-smart/sodium/how-much-sodium-should-i-eat-per-day
If you or an aging loved one are considering senior care in Houston, TX, please call the caring staff at At Your Side Home Care. We will answer all of your senior care questions. Call today: (832) 271-1600.
For most of us, the word "home" evokes warm feelings of comfort, security and well-being. For older adults, home also means holding tight to cherished memories and maintaining self-esteem and independence. When illness, injury or age make life a little more challenging, remaining at home in a comfortable, familiar environment encourages recovery and enhances the quality of life. Home can be defined as a private residence, an independent or assisted living facility or even a short term stay in the hospital, we recognize the additional benefits provided by a personal, professional assistant.

Our Certified Nurse Aides, 24-Hour Live-in Assistants and Home Health Aides are available 24 hours a day, 365 days a year. We also provide the security and confidence of 24-hour Telephone Assistance, so fast, reliable help is always available when it's needed. To learn more about our homecare services see our homecare services page.

Different people need different levels of homecare. To meet the requirements of our clients, At Your Side Homecare maintains consistent staffing levels of caring professionals. Homecare service is available for as little as a few hours a week, or as many as 24 hours a day, seven days a week
Latest posts by Donna Wrabel, LMSW (see all)