5 Ways a Caregiver Support Group Can Help You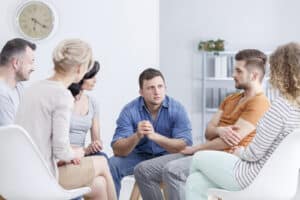 Family caregivers sometimes find the position they've been put in overwhelming and emotionally draining. At times, it can feel like you're all alone and no one else in the world is a caregiver going through the things that you are. If that's the case, you may find it helpful to join a caregiver support group. There are all kinds of different caregiver groups, some that meet in person and some that meet online. There are caregiver groups for specific conditions and others for the caregiver's relationship to the person they are caring for. It can take a little time to find the group that's right for you, but once you do, you can expect to receive all kinds of benefits, like the ones listed below.
#1: Connection
It's easy to feel alone as a caregiver. Meeting with a group of people who are in a similar situation to you can help you to feel less alone. You'll see that, for some of them, caregiving brings up the same emotions as it does for you. You can also commiserate with other caregivers over the difficult parts of the job and share the parts that you like best.
#2: New Friends
The members of some caregiver groups become very close to one another. Sometimes their friendships extend outside group meetings. You may meet someone you feel comfortable calling when you need some extra support or advice. Some caregivers even develop friendships with support group members that make them feel comfortable helping each other out with caregiver duties, such as assisting with errands, like grocery shopping or even spending time with one another's older family members.
#3: A Place to Vent
If we're being honest, being a family caregiver has its moments that are so difficult you just need to vent. A caregiver support group is a safe place to talk about how you are really feeling. You don't have to be afraid to talk about your negative feelings.
#4: Learn New Caregiver Techniques
It's likely that your caregiver support group will include people who have been in the role longer than you have. They may have suggestions for challenges you are facing. For example, maybe they know the easiest way to help an older adult get dressed.
#5: Information About Conditions
One of the things a caregiver needs to do to be effective is to learn about the condition their aging relative has. A caregiver support group is one more place to learn about the condition your older family member has. Other members may be able to recommend books they have read or websites they've used.
Another very important type of support that can benefit family caregivers is the assistance provided by home care professionals. Hiring a home care provider for your senior loved one can provide seniors with everything from companionship to ambulatory assistance, light housekeeping, transportation and more. Family caregivers can also benefit from the break in caregiving responsibilities to care for their own families, homes and careers. Consider hiring a home care provider to offer the support you and your senior need.
If you are considering caregivers in Houston, TX, for an aging loved one, please call the caring staff at At Your Side Home Care. We will answer all of your senior care questions. Call today: (832) 271-1600.
Latest posts by Donna Wrabel, LMSW
(see all)