Writing Letters to Loved Ones: A Great Senior Care Activity
Senior Care in Hunters Creek, TX: There's Something Special about a Hand-written Letter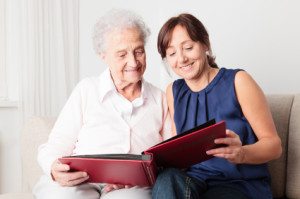 It was not even a generation ago when people were still writing letters to one another far more often than they were sending emails or other forms of communication. With the advent of texting, emailing, and social media, writing letters is quickly becoming a lost art form. Right now, writing letters to loved ones can be a wonderful senior care activity to take part in.
What is the big deal about letters?
Letters were the most common form of communication for thousands of years. Of course, an individual would have to be literate in order to write letters, but throughout most societies, there were usually people who could be hired or encouraged to write a letter for somebody, even if they couldn't write it themselves.
Letters are a much more intimate form of communication than digital emails, texting and other computer related forms. Sending a quick text to somebody to say hi, how are you doing, is fine, but you are not going to get much information from them.
Writing a letter means that you will be including likely a number of questions about the person to whom you are writing as well as information about yourself.
You can share memories, thoughts, concerns, or anything else that you want in a letter. The letter doesn't really have to have any structure when you are writing to a loved one. Yet writing a letter can signify so much to the person who receives a letter, such as the fact that you were thinking about them and that you took the time to sit down and write it.
How to start writing letters to loved ones.
Even for the individual who requires senior care services, if they can hold a pen, they can be writing letters. This can help them organize thoughts more effectively and they can also express certain things that they may have been holding back through the years.
Always begin a letter to a loved one with the salutation Dear so-and-so.
Avoid general salutations like hello, good day, or to: so-and-so.
After that, open up by simply saying that you were thinking of the person and just wanted to write them a simple letter to say hello and to see how they were doing. From there, go on and explain things that are happening in your life. You can talk about the senior care you are receiving, fears that you have had, memories that you shared of this person, and anything else your heart desires.
When it comes to senior care and writing letters to loved ones, you can also suggest that the patient write letters to friends or loved ones who are no longer here as well as those who may even be living in the same house. When it comes to letters, the process of writing can be powerful.
If you have a loved one who could benefit from the help of senior care in Hunters Creek, TX contact At Your Side Home Care. We help seniors and their families with many levels of home care service. Call (832) 271-1600 for more information.
For most of us, the word "home" evokes warm feelings of comfort, security and well-being. For older adults, home also means holding tight to cherished memories and maintaining self-esteem and independence. When illness, injury or age make life a little more challenging, remaining at home in a comfortable, familiar environment encourages recovery and enhances the quality of life. Home can be defined as a private residence, an independent or assisted living facility or even a short term stay in the hospital, we recognize the additional benefits provided by a personal, professional assistant.

Our Certified Nurse Aides, 24-Hour Live-in Assistants and Home Health Aides are available 24 hours a day, 365 days a year. We also provide the security and confidence of 24-hour Telephone Assistance, so fast, reliable help is always available when it's needed. To learn more about our homecare services see our homecare services page.

Different people need different levels of homecare. To meet the requirements of our clients, At Your Side Homecare maintains consistent staffing levels of caring professionals. Homecare service is available for as little as a few hours a week, or as many as 24 hours a day, seven days a week
Latest posts by Donna Wrabel, LMSW (see all)