When Your Aging Parent Comes Home from the Hospital After Pneumonia – Hire Home Care in Memorial, TX to Makes Sure They Recover Quickly
Pneumonia is difficult for anyone to overcome. For seniors, however, pneumonia can be truly devastating. Seniors are more susceptible to illness and have a more difficult time recovering. With the proper care, though, seniors are able to recover and get back to themselves faster. One of the best ways that you can ensure that your aging parent recovers from their bout with pneumonia in the fastest way possible is to hire a home care companion to help you care for your parent when he returns from the hospital.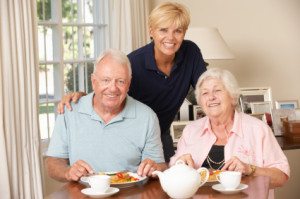 A home care companion is there for your parent throughout the day to help him with the daily activities that will get him on the road to recovery. She can handle light meal preparation, light housekeeping, medication reminders, and mobility issues. This ensures that your parent will be getting the care that he needs at all times. When recovering from pneumonia, a senior may feel much weaker than he usually does. This can make tasks such as getting out of bed, bathing, or running errands incredibly difficult. It is important that you make sure that your parent gets plenty of rest while recovering from pneumonia to make sure that the illness gets completely out of his body and he is able to regain his strength and health. Having a home care companion available will ensure that your parent can take care of the things that need to be taking care of, while also getting plenty of rest, proper nutrition, and medication reminders.
Because pneumonia can seem to get better and then worsen quickly, it is important to have somebody available that is paying attention to your aging parent's symptoms. Should his condition seemed to worsen, your home care companion can provide transportation back to the doctor, make contact with the doctor to get suggestions for what to do, and utilize other techniques to manage the symptoms and help improve the condition.
The most important thing that home care companion can offer to your aging parent in you, is companionship and peace of mind. Simply having somebody ar
ound to make a senior feel much better, and knowing your aging parent is getting the care that he needs even when you are not available to be there will make you feel confident and at ease.
If you have a loved one who could benefit from the help of
services in Houston, TX contact the caregivers at At Your Side Home Care. We help seniors and their families with many levels of home care service. Call (832) 271-1600 for more information.
For most of us, the word "home" evokes warm feelings of comfort, security and well-being. For older adults, home also means holding tight to cherished memories and maintaining self-esteem and independence. When illness, injury or age make life a little more challenging, remaining at home in a comfortable, familiar environment encourages recovery and enhances the quality of life. Home can be defined as a private residence, an independent or assisted living facility or even a short term stay in the hospital, we recognize the additional benefits provided by a personal, professional assistant.

Our Certified Nurse Aides, 24-Hour Live-in Assistants and Home Health Aides are available 24 hours a day, 365 days a year. We also provide the security and confidence of 24-hour Telephone Assistance, so fast, reliable help is always available when it's needed. To learn more about our homecare services see our homecare services page.

Different people need different levels of homecare. To meet the requirements of our clients, At Your Side Homecare maintains consistent staffing levels of caring professionals. Homecare service is available for as little as a few hours a week, or as many as 24 hours a day, seven days a week
Latest posts by Donna Wrabel, LMSW (see all)