What Kind of Dogs Benefit Elder Care in Hunters Creek, TX?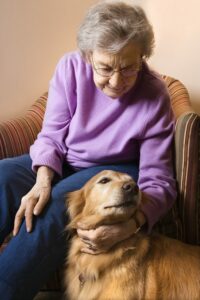 A senior who understands the value of having a pet may be interested in getting a new dog. A lot of seniors tend to navigate towards cats because they are lower maintenance. But for one who is interested in a dog, and who may require elder care of any kind, will the size of the dog matter?
Absolutely. Even though the senior may prefer to have a larger dog because that is a type of dog they are familiar with, or because they prefer them for protection, a large dog is going to be an incredible amount of responsibility for someone who requires any type of elderly home care.
You want to make sure that when you, as the elderly patient, are considering getting a dog as a pet that you don't place the responsibility for their care on the elderly home care provider's shoulders. It is not their responsibility and that would be considered crossing the line with regard to the elder care they provide. In other words, you may be taking advantage of their services.
If the elderly patient requires assistance getting around, then a Labrador, German Shepherd, or even a Weimereiner would be considered far too much for them to handle. Even a feisty beagle can often be more than the senior would be able to deal with.
That leaves the smaller breeds as ideal companions for seniors. This doesn't mean that they should go out and purchase or adopt a Chihuahua. Dogs that are too small can often get underfoot, increasing the risk of tripping and falling for the senior. The dog's health could also be an issue when they are too small. A senior who tries to sit down and has a small dog that runs behind them can actually cause injury or worse to the animal and then get hurt himself or herself.
So dogs that are extremely small or too large to handle are not ideal. Yorkshire Terriers are an ideal size for elderly individuals who require any type of elder care. Not only is this breed the type that doesn't have fur, but rather hair, they are light enough so that they will not pull the senior off-balance if they are walking them or trying to let them out. Also, small dogs will be more likely to use a pad in the house so that they don't have to go outside all the time. National Dog Day is August 29th, so consider a small dog for those seniors who want a pet.
If you have a loved one who could benefit from the help of elder care in Hunters Creek, TX contact At Your Side Home Care. We help seniors and their families with many levels of home care service. Call (832) 271-1600 for more information.
For most of us, the word "home" evokes warm feelings of comfort, security and well-being. For older adults, home also means holding tight to cherished memories and maintaining self-esteem and independence. When illness, injury or age make life a little more challenging, remaining at home in a comfortable, familiar environment encourages recovery and enhances the quality of life. Home can be defined as a private residence, an independent or assisted living facility or even a short term stay in the hospital, we recognize the additional benefits provided by a personal, professional assistant.

Our Certified Nurse Aides, 24-Hour Live-in Assistants and Home Health Aides are available 24 hours a day, 365 days a year. We also provide the security and confidence of 24-hour Telephone Assistance, so fast, reliable help is always available when it's needed. To learn more about our homecare services see our homecare services page.

Different people need different levels of homecare. To meet the requirements of our clients, At Your Side Homecare maintains consistent staffing levels of caring professionals. Homecare service is available for as little as a few hours a week, or as many as 24 hours a day, seven days a week
Latest posts by Donna Wrabel, LMSW (see all)