The Most Important Question to Ask a Senior Before Preparing their Meals
Caregivers in Houston, TX – What are you Allergic to?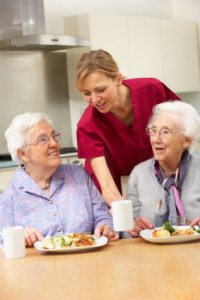 If you have been paying attention in recent years, you will notice that there is an significant increase in the amount of allergies that people are dealing with. Some of those allergies have to deal with food while others are environmental. If you are caregiver for an elderly individual, and you are just starting out as their in-home care provider, you may be tasked with preparing meals. Before you go out on a shopping spree, sit down and talk to him or her about any potential allergies they may have to various foods.
Allergies to nuts has been increasing through the years. Most of these allergies have a tendency to affect infants and children more than older adults. However, as a person's body changes due to age, its tolerance to various food items will also change. That can result in the individual developing new allergies that they never had before.
For example, a person may never have been allergic to peanuts before, and maybe they used to eat peanuts right out of the can. However, you decide to make them a meal complete with cashews and other nuts and as they are eating, you notice that they are having trouble breathing, you notice a bit of a rash on the side of their neck, and other symptoms that can indicate anaphylactic shock.
Anaphylactic shock is a reaction to something that causes an allergy in the body. It can be fatal. During anaphylactic shock, the esophagus begins to close over, making it difficult for the individual to breathe. If the symptoms continue without getting emergency treatment, it can cause them to stop breathing altogether.
As a caregiver, you need to be aware of all the potential risks that exist when working with the patient. You may look around the house and determine that there are various health and safety risks with furniture, uneven flooring, slippery stairs, and other things, but you should also be paying attention to the food and drinks that they eat.
Sit down with the patient as soon as possible when you begin work as an in-home care provider and discuss any and all foods that they have an allergy to. They may say they have no allergies whatsoever, but certain foods may irritate their stomach. Make note of this and encourage them to talk to their doctor about finding out if there is a potential allergic reaction to those foods. Avoid anything that the patient may be allergic to.
If you have a loved one who could benefit from the help of caregivers in Houston, TX contact At Your Side Home Care. We help seniors and their families with many levels of home care service. Call (832) 271-1600 for more information.
For most of us, the word "home" evokes warm feelings of comfort, security and well-being. For older adults, home also means holding tight to cherished memories and maintaining self-esteem and independence. When illness, injury or age make life a little more challenging, remaining at home in a comfortable, familiar environment encourages recovery and enhances the quality of life. Home can be defined as a private residence, an independent or assisted living facility or even a short term stay in the hospital, we recognize the additional benefits provided by a personal, professional assistant.

Our Certified Nurse Aides, 24-Hour Live-in Assistants and Home Health Aides are available 24 hours a day, 365 days a year. We also provide the security and confidence of 24-hour Telephone Assistance, so fast, reliable help is always available when it's needed. To learn more about our homecare services see our homecare services page.

Different people need different levels of homecare. To meet the requirements of our clients, At Your Side Homecare maintains consistent staffing levels of caring professionals. Homecare service is available for as little as a few hours a week, or as many as 24 hours a day, seven days a week
Latest posts by Donna Wrabel, LMSW (see all)