The Emotional Impact of Eating Alone and Why Home Care Services Matters
Home Care in Spring Valley, TX – Enjoying a Meal with Another Person Takes On a Greater Importance for Seniors Living Alone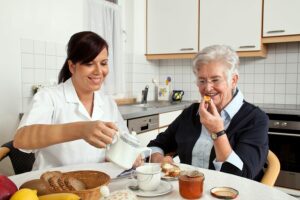 When was the last time you spent a nice, relaxing meal at home all alone? If you raised children, have a spouse, or are surrounded by a lot of other people in the house, it might have been a long time since you were able to do this.
In those situations it could be welcome, but for seniors who are living alone, eating alone can actually have negative consequences. Even though the elderly individual might not require a significant amount of help throughout the day, hiring home care services to come in during the late afternoon and evening hours could provide them a great level of physical as well as emotional support.
Eating every meal alone day after day can eventually lead to certain emotional challenges, including depression. Human beings are, by design, social creatures and as a result, we aren't meant to spend a significant amount of time alone. Yes, it can be incredibly relaxing and even welcoming to spend some precious time alone every once in a while, but when a senior has nobody else living in the house with them, they don't have anyone to talk to.
According to the Huffington Post, "You are what you eat — but apparently, who you eat with is pretty important too. Research shows that eating alone means eating a less nutritious diet, especially for those over 50."
Phone conversations can be okay, but it is that personal, direct interaction that can be incredibly beneficial.
When people live alone and don't have the ability to get around, to go to the store, to visit friends or loved ones, it can feel very isolating to them.
How in home care services can make a difference.
An experienced home care provider would be able to stop by and visit with the senior at a regularly scheduled time. This could be during the late afternoon or evening hours, or some other time of the day. They might be able to assist with meal preparation, especially if the senior has difficulty reaching certain items in the cabinets or has difficulty staying on their feet for any length of time to make a healthy meal.
If requested or deemed appropriate, this caregiver could sit down and have a conversation with the senior while they eat together. That could provide a tremendous emotional boost for the senior and they may begin sharing some memories of their youth, things they did in their life, and even aspirations of certain things they might wish they could've tried, and even those they may not realize they can still do.
Feeling better about life begins by surrounding ourselves with other people. As social creatures, it is that emotional connection that can help to produce more uplifting chemical reactions in the brain which can inspire people far more than they thought possible.
If you have a loved one who could benefit from the help of home care in Spring Valley, TX contact At Your Side Home Care. We help seniors and their families with many levels of home care service. Call (832) 271-1600 for more information.
For most of us, the word "home" evokes warm feelings of comfort, security and well-being. For older adults, home also means holding tight to cherished memories and maintaining self-esteem and independence. When illness, injury or age make life a little more challenging, remaining at home in a comfortable, familiar environment encourages recovery and enhances the quality of life. Home can be defined as a private residence, an independent or assisted living facility or even a short term stay in the hospital, we recognize the additional benefits provided by a personal, professional assistant.

Our Certified Nurse Aides, 24-Hour Live-in Assistants and Home Health Aides are available 24 hours a day, 365 days a year. We also provide the security and confidence of 24-hour Telephone Assistance, so fast, reliable help is always available when it's needed. To learn more about our homecare services see our homecare services page.

Different people need different levels of homecare. To meet the requirements of our clients, At Your Side Homecare maintains consistent staffing levels of caring professionals. Homecare service is available for as little as a few hours a week, or as many as 24 hours a day, seven days a week
Latest posts by Donna Wrabel, LMSW (see all)