The Advantages of Non-Medical In-Home Care
Home Care in The Heights, TX – How Can Home Care Help Your Elderly Loved One?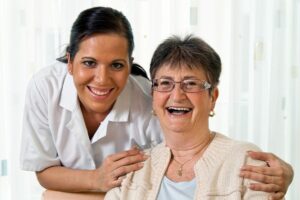 One of the biggest advantages of non-medical home care is families are provided with peace and confidence knowing their elderly family members are receiving compassionate, personalized, and professional care while in the comfort of their homes. Under most circumstances, this type of senior care is the most cost-effective and satisfying than any other.
The Growing Popularity for Home Care:
Those with specialized needs are able to remain home. Caregivers provide services to those who are chronically ill, growing in age, in recovery from surgery, or who are disabled. Additional services include:
Light cleaning, meal preparation and laundry
Medication reminders
Transportation to doctor appointments and other activities
Personalized care including bathing, dressing, shaving, and washing hair.
Caregivers provide just about any type of assistance their patients need or want. There are also opportunities where volunteers will come in and provide services for free. Others require out-of-pocket payments. Community-based services, which are provided by state and local governments, will cover the cost of elderly care.
The Benefits of Senior Care:
Senior care occurring in the home is variant upon whether it is simple companionship or based upon complex monitoring and personalized home care needs. The benefits of home senior care include:
Better healing is promoted.
Care is provided in the comfort of the patient's own home.
Family and friends can visit with ease.
Institutional living is either postponed or prevented.
More cost-effective compared to recovery care at a hospital or nursing facility.
Promotes independence and freedom.
Re-hospitalization is reduced.
Safety from contagious infections.
Specific needs are tailored to each patient.
Home Elderly Care Promotes Better Health
When chronic or acute illness has stricken or aging loved one, it is crucial they are the recipient of appropriate medication, medical supervision, nutrition, and rest. Under most circumstances, home caregivers provide help to loved one so they can maintain the proper balance of health for an extended length of time.
Research indicates elder care patients receiving home care services improve their ability to move around and walk, get out of and into bed, feel less pain during movements, experience improved control with their bladder, have less shortness of breath, are better with baths, and need less urgent medical care.
In Home Elder Care Is Cost Effective
Comparatively speaking, research indicates in home care is more cost effective than assisted living or nursing home care facilities. Here is some data taken with regards to the average costs in the United States during 2009:
Assisted Living Facility (one bedroom): $3,131 per month.
Home Care Aide: $21.00 per hour.
Homemaker Services: $19.00 per hour.
Nursing Home (semi-private room): $198.00 per day.
Nursing Home (private room): $219 per day.
Home care visits typically last between two and four hours and appointments occur two or three times per week, but they can be tailored to suit your elderly loved one. If they need more or less care, home care services can be adapted to their needs and budget. This flexibility is just another advantage to home care for your elderly loved one.
If you have a loved one who could benefit from the help of home care in The Heights, TX contact At Your Side Home Care. We help seniors and their families with many levels of home care service. Call (832) 271-1600 for more information.
For most of us, the word "home" evokes warm feelings of comfort, security and well-being. For older adults, home also means holding tight to cherished memories and maintaining self-esteem and independence. When illness, injury or age make life a little more challenging, remaining at home in a comfortable, familiar environment encourages recovery and enhances the quality of life. Home can be defined as a private residence, an independent or assisted living facility or even a short term stay in the hospital, we recognize the additional benefits provided by a personal, professional assistant.

Our Certified Nurse Aides, 24-Hour Live-in Assistants and Home Health Aides are available 24 hours a day, 365 days a year. We also provide the security and confidence of 24-hour Telephone Assistance, so fast, reliable help is always available when it's needed. To learn more about our homecare services see our homecare services page.

Different people need different levels of homecare. To meet the requirements of our clients, At Your Side Homecare maintains consistent staffing levels of caring professionals. Homecare service is available for as little as a few hours a week, or as many as 24 hours a day, seven days a week
Latest posts by Donna Wrabel, LMSW (see all)