Setting Limits or Hiring Home Care Services: Which is Better for Your Loved One in Hilshire Village, TX?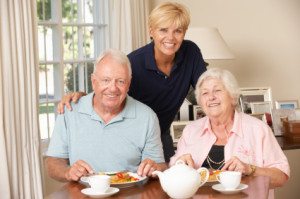 Belle didn't know the first thing about being an in-home care provider, but when she decided that she would be the one to care for her mother, she wasn't about to fail. Belle had always been a driven, success-oriented individual and this was a matter of pride for her mother. There were few things that she couldn't handle, and she was reticent to admit when she had reached her limit.
Yet within the first couple of weeks caring for he mother, she realized that she was going to have to push herself –emotionally as well as physically- to her limits in order to provide the right level of care for her mother.
Belle began waking up 30 minutes early every morning in order to have enough time to stop by and check on her mother and help her out of bed if she needed assistance. Some days were better than others for her mother, and it was impossible to tell until she arrived at the house. Within a week, though, she was waking up an hour and a half earlier and was still just getting to work on time.
In the evenings, her mother seemed far more independent at first, but within a few days, her mother was calling Belle to ask for help with one thing or another. Belle was fine with this at first, but soon she was running back and forth every day and each instance seemed to be another emergency situation.
This was beginning to impact her professional life as well as her relationships. She used to spend one afternoon a week getting together with her friends for dinner, talking about their families, careers, men, and anything else they could think of. She had given that up for the past month and her friends weren't calling to check on her much anymore, either.
She had started dating a gentlemen she met at the supermarket, but since she couldn't find the time to go out with him, he seemed to move on to someone else. Belle didn't set any limits and actually gave up far more than she would have agreed to in the beginning. She was stressed and her care of her mother was slipping.
Belle and her mother would have been better off hiring home care services for her mother. Sometimes, when you don't set limits, you end up eroding the things that matter to you most.
If you have a loved one who could benefit from the help of home care services in Hilshire Village, TX contact the caregivers at At Your Side Home Care. We help seniors and their families with many levels of home care service. Call (832) 271-1600 for more information.
For most of us, the word "home" evokes warm feelings of comfort, security and well-being. For older adults, home also means holding tight to cherished memories and maintaining self-esteem and independence. When illness, injury or age make life a little more challenging, remaining at home in a comfortable, familiar environment encourages recovery and enhances the quality of life. Home can be defined as a private residence, an independent or assisted living facility or even a short term stay in the hospital, we recognize the additional benefits provided by a personal, professional assistant.

Our Certified Nurse Aides, 24-Hour Live-in Assistants and Home Health Aides are available 24 hours a day, 365 days a year. We also provide the security and confidence of 24-hour Telephone Assistance, so fast, reliable help is always available when it's needed. To learn more about our homecare services see our homecare services page.

Different people need different levels of homecare. To meet the requirements of our clients, At Your Side Homecare maintains consistent staffing levels of caring professionals. Homecare service is available for as little as a few hours a week, or as many as 24 hours a day, seven days a week
Latest posts by Donna Wrabel, LMSW (see all)