Senior Care Tips: Quick Tricks for Making Your Parents' Home Welcoming for Visitors
Senior Care in River Oaks, TX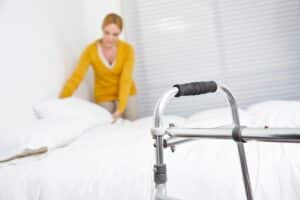 Welcoming visitors to your aging parents' home is a wonderful way to give your loved ones an emotional boost, add some social interaction into their day, and creating lasting memories. If you get a phone call announcing that friends or family members will be dropping by in a few hours and the house is not picture perfect, however, you may find yourself uncomfortable with the idea of them coming over.
While keeping your senior parents' home clean and orderly is an important part of your senior care efforts, there are likely going to be times when the tidying is not complete or there are a few things out of place in the home that you have not had the time to resolve. If you find out that your parents will have visitors before you have a chance to do your regular deep cleaning, do not let it dissuade you from allowing your seniors to enjoy some time with their friends and family members. Instead, use simple tips and tricks to make the home welcoming and comfortable for the visitors so you can all relax and have a nice time together.
Use these ideas, and share them with your aging loved ones' senior health care services provider, to quickly neaten up a home and make it presentable for welcoming last-minute visitors:
• Calm down. First and foremost, take a moment to reassure yourself. No one expects your aging loved ones' home to be the picture of perfection all the time, and most likely the little things that you notice that seem out of place will not even register with visitors. They are there to enjoy some time with your parents, not evaluate the home, so instead of worrying about making the house pristine, spend that time making your aging loved ones look their best and putting together refreshments for you all to enjoy.
• Think scent. The sense of smell is an incredibly powerful force and can be used to elicit emotions and perceptions. Even if the house has gotten a little cluttered or you haven't had the chance to do your deep clean for the week, adding wonderful, welcoming smells will make the space seem comfortable and well cared-for. Layer the fragrances throughout the home using candles, potpourri, or air sprays, and for a quick boost of clean fragrance, pour some all-purpose cleaner in the toilet, flush it, then pour more in and leave it there.
• Create order. If you have a limited amount of time to create a welcoming home, take care of any glaring issues first. Tone down clutter by making neat piles out of mail, magazines, books, or other items on surfaces, taking out the trash, and getting rid of any dirty dishes or laundry.
Get in touch with the elder care agency in your area to find out more about hiring a senior health care services provider who can help you provide the care and assistance your elderly loved ones need on a regular basis to enjoy their highest quality of life.
If you have a loved one who could benefit from the help of senior care in River Oaks, TX contact At Your Side Home Care. We help seniors and their families with many levels of home care service. Call (832) 271-1600 for more information.
For most of us, the word "home" evokes warm feelings of comfort, security and well-being. For older adults, home also means holding tight to cherished memories and maintaining self-esteem and independence. When illness, injury or age make life a little more challenging, remaining at home in a comfortable, familiar environment encourages recovery and enhances the quality of life. Home can be defined as a private residence, an independent or assisted living facility or even a short term stay in the hospital, we recognize the additional benefits provided by a personal, professional assistant.

Our Certified Nurse Aides, 24-Hour Live-in Assistants and Home Health Aides are available 24 hours a day, 365 days a year. We also provide the security and confidence of 24-hour Telephone Assistance, so fast, reliable help is always available when it's needed. To learn more about our homecare services see our homecare services page.

Different people need different levels of homecare. To meet the requirements of our clients, At Your Side Homecare maintains consistent staffing levels of caring professionals. Homecare service is available for as little as a few hours a week, or as many as 24 hours a day, seven days a week
Latest posts by Donna Wrabel, LMSW (see all)