Senior Care Recipes: Brunswick Stew
Senior Care in Hunters Creek, TX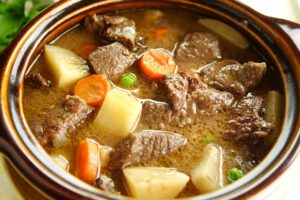 Making sure that your aging loved ones get the nutrition that they need on a regular basis is an important part of your senior care efforts, and with the cooler weather here, there is nothing quite like enjoying filling, satisfying, warm meals on chilly nights. Whether you are preparing a meal just for your aging parents and their senior health care services provider to enjoy on a cool weeknight, or you are maximizing your cooking efforts and preparing a meal for them, yourself, your children, and your partner, traditional Brunswick stew is a fantastic choice.
This meal is filled with a variety of ingredients that boost your parents' daily nutrition. The mixture of four different meats provides not only rich and satisfying flavor, but also a great dose of protein to make your bodies strong and produce lasting metabolic energy. The vegetables contain high levels of vitamins as well as dietary fiber so that you will feel full and stay fuller longer, while also giving your body the things that it needs to function properly and ward off the infections and illnesses that are common this time of year.
Brunswick stew is a great meal for you to prepare ahead of time in large batches and then freeze that you can enjoy a delicious, nutritious homemade meal even on the busiest days when you do not have the time to actually prepare a meal from scratch. Just cook the stew, allow it to cool all the way, and then distribute it into large zipper freezer bags. Lay these bags down in the freezer to save space. When you are ready to enjoy your stew, put a frozen bag in the refrigerator to thaw for a few hours, and then thaw it the rest of the way in the microwave before heating it up on the stove.
What You Will Need
1/2 pound of salted butter
2 tablespoons of minced garlic
3 cups of finely diced sweet onions
1 teaspoon of cayenne pepper
1 tablespoon of salt
1 tablespoon of freshly ground black pepper
1/4 cup of Worcestershire sauce
1/2 cup of sweet barbeque sauce
1/2 cup of vinegar barbeque sauce
1 pound of smoked pulled pork
1/2 pound of smoked pulled turkey
1/2 pound of smoked pulled chicken
1 pound of smoked chopped beef brisket
1 quart of drained yellow corn kernels
1 quart of baby lima beans
1 can of crushed tomatoes
1 quart of chicken stock or broth
1 large saucepan
Serving bowls
What to Do
• In the large saucepan over medium heat, melt the butter
• Once hot, add the garlic and diced onions
• Sauté the onions about 15 minutes until they are translucent
• Stir in cayenne pepper, the black pepper, salt and the Worcestershire sauce
• After simmering for 5 minutes, add the 1/2 cup of barbeque sauce and 1/2 cup of vinegar sauce
• Stirring lightly, add the chicken, brisket, pulled pork, and turkey
• Add the crushed tomatoes in, followed by the remainder of the vegetables, still stirring
• Once mixed, add the chicken stock and allow to simmer
• Continue to simmer for a few hours on medium heat
• Transfer to a serving bowl and serve hot
If you have a loved one who could benefit from senior care in Hunters Creek, TX contact At Your Side Home Care. We help seniors and their families with many levels of home care service. Call (832) 271-1600 for more information.
For most of us, the word "home" evokes warm feelings of comfort, security and well-being. For older adults, home also means holding tight to cherished memories and maintaining self-esteem and independence. When illness, injury or age make life a little more challenging, remaining at home in a comfortable, familiar environment encourages recovery and enhances the quality of life. Home can be defined as a private residence, an independent or assisted living facility or even a short term stay in the hospital, we recognize the additional benefits provided by a personal, professional assistant.

Our Certified Nurse Aides, 24-Hour Live-in Assistants and Home Health Aides are available 24 hours a day, 365 days a year. We also provide the security and confidence of 24-hour Telephone Assistance, so fast, reliable help is always available when it's needed. To learn more about our homecare services see our homecare services page.

Different people need different levels of homecare. To meet the requirements of our clients, At Your Side Homecare maintains consistent staffing levels of caring professionals. Homecare service is available for as little as a few hours a week, or as many as 24 hours a day, seven days a week
Latest posts by Donna Wrabel, LMSW (see all)